Ketner School of Business
What's your business?
Are you interested in large corporations, non-profit organizations, family-run or small business enterprise? At Ketner School of Business, we will prepare you for every facet of the business world through our practical, hands-on approach and entrepreneurial focus. You'll study real businesses, look into contemporary case studies, participate in internships, and benefit from input by industry leaders - you will see once you're here.
Associate Degrees
Bachelor's Degrees
Minors
Master's Degrees
---
Purpose Statement
Building tomorrow's business leaders one experience at a time.
- - - - - - - -
Founded on critical thinking, integrity, passion,
personal growth and experiential learning

It's a Trine thing!
---
Experience
Simulations, real-world case studies, and internships give you the practical experience that leads you to a meaningful career path after graduation. You'll explore it all—Fortune 500, middle market, small business, and entrepreneurship.
Alumnus Mentors Current Student
Richard "Trey" Orrell III is completing an internship at Meridian Hills Country Club in Indianapolis this summer. Trey is working with 2015 alumnus, Brandon Snell, who serves as the Assistant Professional at Meridian Hills. Pictured are Trey Orrell and Brandon Snell.
Donates to the Fellows Program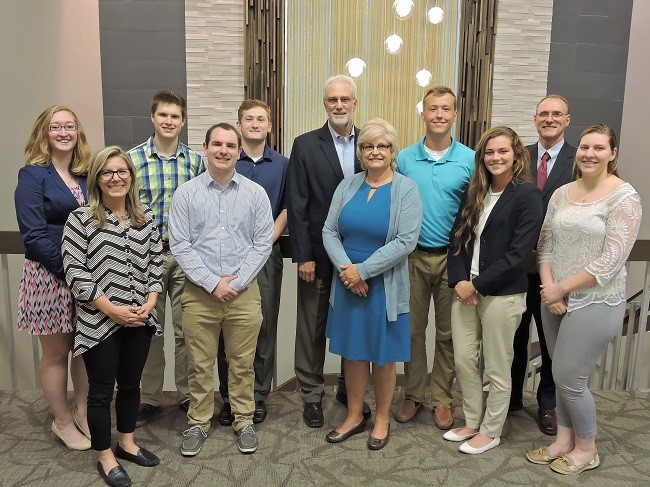 Above: Ken and Kathy Ehinger stand in the Ketner School of Business at Trine University with faculty and members of the Ehinger Fellows. The couple recently decided to fund the Fellows program. From left are: back row, Kayla Spande, a senior accounting major from Mapleton, Minnesota; Cole Mabie, a junior mathematics major from Plainwell, Michigan; Jimmy Budreau, a junior sport management major from Leonard, Michigan; Ken Ehinger; Victor Flynn, a junior sport management major from Grosse Pointe, Michigan; Toby Swick, dean of the Ketner School of Business; front row, Kelly Trusty, Ph.D., assistant professor in the Ketner School of Business and Ehinger Fellows Facilitator; Brandon Beery, a senior mathematics major from Mishawaka; Kathy Ehinger; Carly Osinski, a junior marketing major from Noblesville; and Paige Stark, a senior finance major from Newtown Square, Pennsylvania.
2016 - 2017 Fellows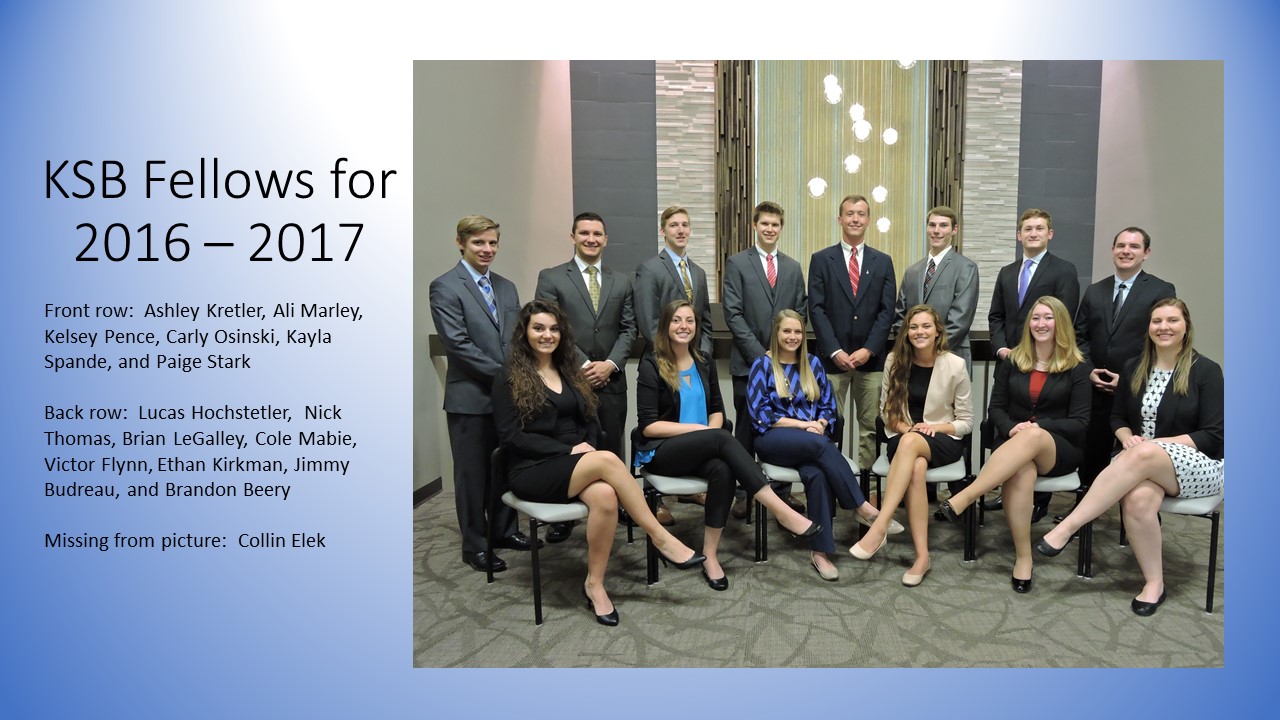 KSB's Major Field Test Top Performers


---
Accreditation
The Ketner School of Business and the School of Professional Studies received accreditation from the Accreditation Council for Business Schools and Programs (ACBSP). Accredited programs are the Bachelor of Science in Business Administration, Bachelor of Applied Management, Associate in Accounting and Associate in Business Administration.