Campus Christian House honors professor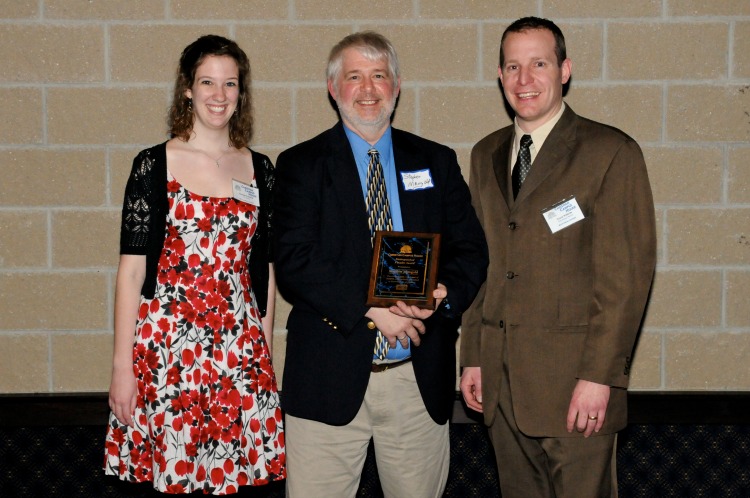 ANGOLA, Ind. – Trine University's Campus Christian House honored a Trine University professor for his positive attitude and passion for teaching.
Stephen Mangold, a vocal director in Trine's music department who also teaches in the Jannen School of Arts & Sciences, received the Distinguished Faculty Award on Saturday, March 22, from the Campus Christian House (CCH) senior class.
Students appreciate his caring demeanor, sense of humor and devotion to teaching.
"Professor Mangold approaches all of his classes with a positive attitude and strives to make every class fun for his students and himself," said Hannah Gaisford, a Warsaw senior. "In both his lecture and choral classes, he gets feedback from students so he can best serve them and he is always trying to improve to provide the best learning experience."
His ability to inject humor and fun was also cited by another student.
"There is never a dull moment with professor Mangold. He is always able to make you laugh and he has a huge passion for teaching," said Richard Hammond, a Goshen senior. "He obviously cares about his students and he always has many life lessons to share.
Mangold's efforts extend outside the classroom, too.
"When he thinks students are facing a difficult time, professor Mangold makes it a point to ask students what is happening and offers his support and any help that he can give," Gaisford said.
CCH seeks to help Trine University better the student as a whole by creating a ministry that serves their spiritual needs. "We realize there are faculty personnel who are also instrumental in impacting the lives of students, and we honor a faculty member each year for their high level of integrity and commitment to the well-being of students," said Travis Wilhelm, director of campus ministry and university chaplain.
Shown in photo from left are Hannah Gaisford, Trine senior; Stephen Mangold, award recipient; and Travis Wilhelm, director of campus ministry and university chaplain.