ESL students check out The Remnant Trust
Nearly 30 members of Trine University's English as a Second Language program participated in a tour of The Remnant Trust on Thursday (May 22).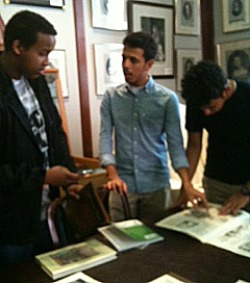 Students from the Middle East and China enjoyed an opportunity to hold and browse through many of the 50 books and documents on display.
To arrange for a group or organization to see The Remnant Trust, contact Dareen McClellan at 260.665.4102 or mcclelland@trine.edu.
The Remnant Trust, based at Winona Lake, loaned Trine 50 pieces. Visitors may see the collection at Trine for free from 10 a.m. to noon on Saturdays through June 14 in Wells Gallery, Taylor Hall. Folks can also get their hands on the books and documents from 4 to 5 p.m. Friday, June 20.