Trine to dedicate T. Furth Center for Performing Arts on May 2
ANGOLA, Ind. – Marble statuary. Gold detailing. Luxurious appointments.
Be among the first to see Trine University's new T. Furth Center for Performing Arts during the dedication at 11:30 a.m. Friday, May 2. The dedication will be in the Ryan Concert Hall of T. Furth Center at 500 W. Maumee St., just a couple blocks west of the circle.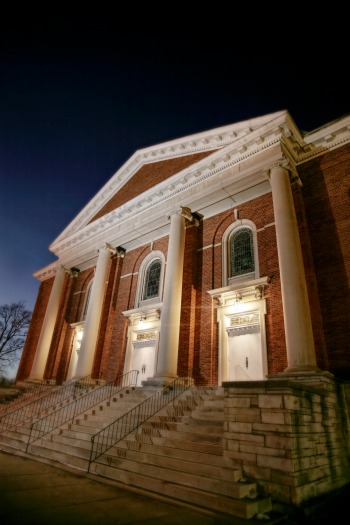 Trine's $7.8 million renovation has transformed the former First Christian Church into a performing arts center and cultural icon for the school and region. Built in 1910, the Greek Revival-style brick structure will house Trine's music program and Drama Club. It will also host music, dance and theater performances as well as art.
"We know community members have been eager to see the new T. Furth Center and we invite everyone to join us May 2," said Earl D. Brooks II, Ph.D., Trine president. "We are grateful for the support of our generous donors and friends that made this renovation possible. And, we're pleased to be able to rescue such a historic building for the betterment of this community and region – a place where our community can come together to enjoy the humanities, arts and music."
During the dedication, Trine will recognize and honor the numerous donors and supporters for their support and assistance to help bring the project to reality.
The celebration continues Friday evening when Lee Greenwood, a country singing star and Grammy winner, performs a private concert at the T. Furth Center.
The project, which included renovation and an addition, began in March 2013. The addition to the north end of the building provides a covered, handicapped accessible entrance. The Ryan Concert Hall, styled in navy and gold, features three balconies, seating for more than 750 people and a domed ceiling. Visitors will also see 24 marble statues, designed and carved expressly for the center. The statues represent Greek mythological figures connected to the arts as well as notable figures, such as William Shakespeare and Wolfgang Amadeus Mozart. In addition, 100 cherub statues, some playing musical instruments, dot the interior.
The lower level offers music practice rooms, dressing rooms, space for offices and a music library.
The T. Furth Center was designed with the intention that visitors notice something new each time they visit. From gold detailing to specially cast Trine University seals to gold and crystal chandeliers, come to the T. Furth Center dedication and see all it has to offer.