Trine softball team heads to national championship in Texas
A festive mood swept Trine University on Tuesday afternoon as supporters came out to cheer on members of the Thunder softball team.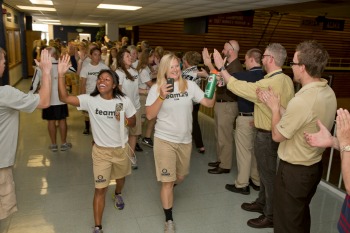 Fans formed two lines for the team and coaches to walk past before they departed for the first leg of the trip to Tyler, Texas. Hershey Hall was filled with the sounds of cheers, clappers, cowbells and applause as folks celebrated the team.
The team earned a berth in the NCAA Division III Softball National Championships after sweeping Emory University last weekend in super-regional action in Atlanta.
For the first time in school history, the Thunder softball team will compete in the National Championships. Action begins Thursday when the Thunder opens it title run against Montclair State at 7:30 p.m. Montclair defeated New Jersey Athletic Conference rival Keane University in the Super Regionals to advance to national play.
The Red Hawks have a 41-6 record and Trine is 43.4 overall.
The eight-team National Championship from Thursday to Tuesday is hosted by the University of Texas at Tyler at Suddenlink Field. As with previous rounds, the tournament follows a double-elimination format.
To follow the softball action, visit trinethunder.com.