Trine excited to host Travis Mills, motivational speaker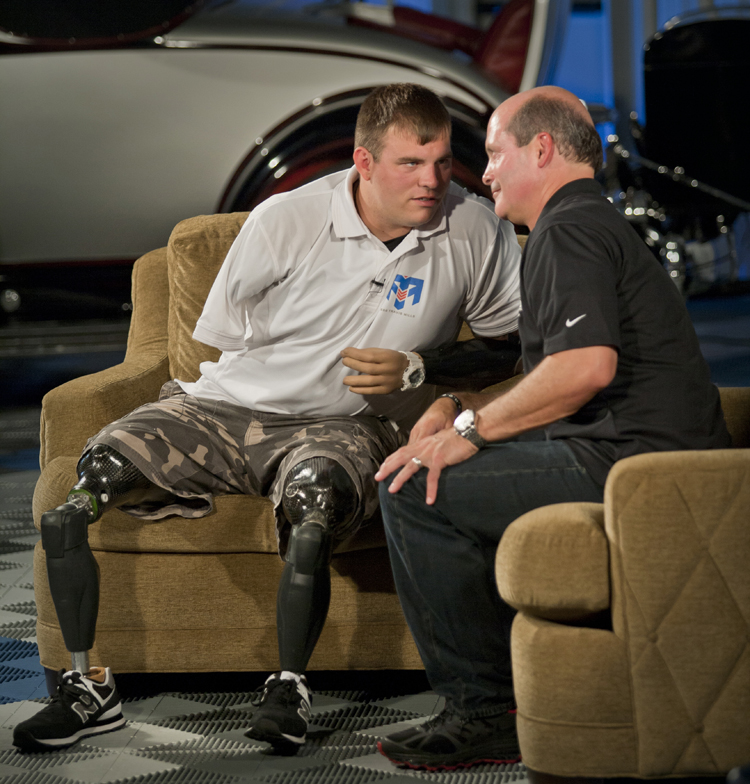 Retired Staff Sgt. Travis Mills, who lost portions of his arms and legs from an IED (improvised explosive device) in Afghanistan in April 2012, is the subject of the documentary "Travis: A Soldier's Story."
The documentary will be shown at 6:30 p.m. Thursday, July 24, at Trine University's T. Furth Center for Performing Arts. Mills will answer questions after the documentary is screened. Tickets are $10 and are still available.
Proceeds benefit Tee Shirts 4 A Troops, a not-for-profit organization based in Indianapolis that provides T-shirts for America's superheroes, referring to soldiers.
The organization (teeshirts4troops.com) provides super-soft clothing and adaptive clothing for injured military personnel. Jim and Debbie Peters, founders of Tee Shirts 4 Troops, met Mills in Germany shortly after he was out of a medically induced coma. The Peters had performed in USO (United Service Organization) shows and obliged when they were asked to visit hospitalized soldiers.
Eight years ago, they met "walking wounded" soldiers and that led them to create the Tee Shirts organization. "There were not enough beds for these soldiers so they were in a dormitory with only fatigues to wear so we gave them T-shirts," Jim Peters said. "Now, 15,000 shirts later and 11,000 soldiers later, here we are," he said Wednesday.
Mills, a Vassar, Mich., native and his wife, Kelsey, have a daughter, Chloe. In September 2013, Travis founded the nonprofit Travis Mills Foundation, formed to benefit and assist wounded and injured veterans. Travis and the foundation are actively involved with numerous veterans' organizations including, Veterans Family Center in Belgrade, Maine.
He also founded the Travis Mills Group, LLC where he consults with and is a motivational speaker.
Photo: Retired Staff Sgt. Travis Mills, left, and Mitch Kruse challenge each other in a staring contest Wednesday morning. Mills was interviewed by Kruse for "The Restoration Road with Mitch Kruse" show. Mills uses humor to help put others at ease with his injuries. Photo by Dean Orewiler, Trine photographer.