Week of Halloween fun scheduled
By Cody Konieczski
communication '17
OCT. 24 -- Trine University's Department of Humanities and Communication (HAC) is in inviting students, faculty and staff to come see the Haunted Hall of Humanities in Taylor Hall. Spooky events will start Sunday and go for a week to celebrate Halloween. Each day there will be a different and new event, concluding with the HAC or Treat costume contest.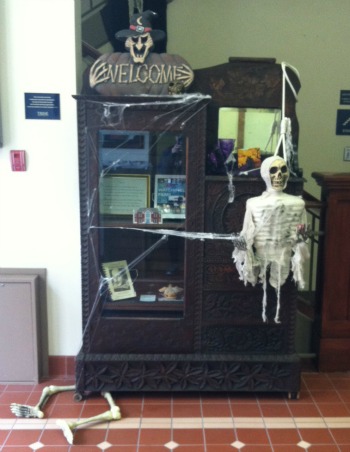 Here are the events for each day:
Halloween Concert at 3 p.m. Sunday in the T. Furth Center for Performing Arts' Ryan Concert Hall. It will be presented by the Trine Chamber Orchestra, University Choir and Musical Theatre/Opera Ensemble.
Night Frights: Fireside Stories with HAC at 7 p.m. Monday at the fire pit outside of Centennial Station. The event will be co-sponsored by the Multicultural Student Organization (MSO) and the Office of Student Success and Retention. Planned are scary ghost stories, deadly s'mores snacks and ghoulish apple cider to drink if you dare.
Poe: The Man Behind the Mustache at 3:30 p.m. Tuesday at Wells Theater, Taylor Hall. Lou Ann Homan, an adjunct instructor and storyteller, will give a presentation about Edgar Allan Poe as part of the Humanities Symposia.
Poe Night at 7 and 9 p.m. Wednesday at Wells Theater, Taylor Hall. Planned are separate presentations of the third annual night of theatrical terror as Homan leads groups of students in telling and performing some of Edgar Allan Poe's stories and poetry.
"It Follows" film screening at 7 p.m. Thursday at Fabiani Theatre, Rick L. and Vicki L. James University Center. Presented as part of The Overlooked Film Festival, "It Follows" tells of suburban Detroit young people stalked by something horrible. It cannot be stopped and the only way to save themselves might be to condemn the next person.
HAC or Treat: Costume Contest from 9 a.m. to 1 p.m. Friday on the first floor of Taylor Hall. During that time, costumed students are encouraged to stop by to be photographed and entered into the contest. Or, just stop by to take a tour of the scary decorations of Taylor Hall and enjoy candy. Prizes will go to the top three student costumes.