Trine forms Environmental and Community Outreach Center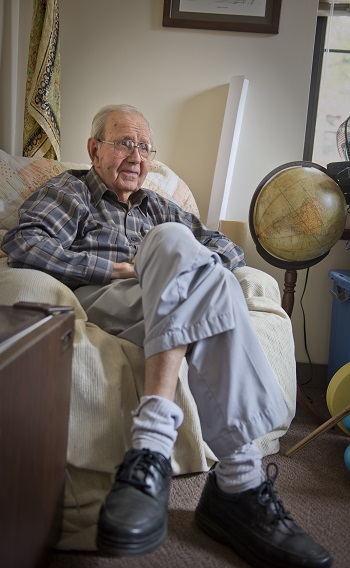 Trine University has launched the Art Eberhardt Environmental and Community Outreach Center to coordinate the university's sustainability efforts and help provide student volunteers for environmental efforts.
"By having a hub like this, people will know where to go and things can be more organized," said Brandy DePriest, director of the new center and assistant professor in Trine's Department of Humanities and Communication. "By having one center, we will have a stronger connection with the community and departments across campus."
Eberhardt, who served as professor in the Department of Electrical and Computer Engineering at Tri-State College/University from 1952 to 1990, coordinated the first Earth Day on the campus of Tri-State College — now Trine University — on April 22, 1970. A citation from the university naming Eberhardt as professor emeritus noted his "leadership in and dedication to environmental concerns."
The center will be housed in the Department of Humanities and Communication. One of the key goals for the new center will be to help connect Trine students with volunteer efforts off campus.
"There are a lot of projects both on campus and off, and they often don't have resources or volunteers," said DePriest. "And there are lots of Greek and student organizations that have volunteers but don't have projects to work on."
Building on the efforts of Trine's student environmental group S.P.E.A.K. for the Earth, the center also will offer resources to academic departments for community and sustainability initiatives, and promote sustainability on campus through working with staff and exploring grant opportunities.
"These are things we have been doing. We just have a name now," DePriest said.
The center, which has two volunteer interns, has submitted materials for Trine to be designated a Tree Campus USA.
For more information, visit trine.edu/ecocenter
Photo: Art Eberhardt, Ph.D., sits in the office of Brandy DePriest in the Department of Humanities and Communication, which will be home to the Art Eberhardt Environmental and Community Outreach Center. Photo by Dean Orewiler