Holmquist named Division III Academic All-American® of the Year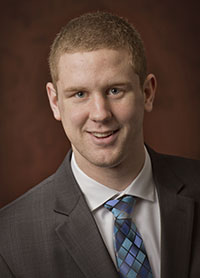 AUSTIN, Texas-- Trine's Jared Holmquist has been named the 2015-16 CoSIDA Academic All-American® of the Year for men's basketball, the organization announced Tuesday.
Holmquist (Reed City, Mich. / Reed City) was voted the top scholar-athlete in Division III men's basketball as he headlined the 2015-16 CoSIDA Academic All-America® Division III Men's Basketball selections. The All-America® honor is the first of his career and the first for the Trine men's basketball program as a member of Division III. The CoSIDA Academic All-America® teams recognize the nation's top student-athletes for their combined performances athletically and in the classroom.
To be eligible for Academic All-America® honors, student-athletes must have been named a first team Academic All-District® performer.
Holmquist earned a 3.90 GPA as an accounting major at Trine. His academic honors also include three appearances on the MIAA Academic Honor Roll and recognition on Trine University's president's list.
The senior has also been a visible member of the Angola community, spending time volunteering at the YMCA with the organization's Challenger Basketball program for people with disabilities. Holmquist and his teammates also spend regular hours volunteering at the Steuben County Humane Society in the fall.
On the court, Holmquist wrapped up a second-consecutive All-MIAA First Team honor this winter. His accolades this season also include three MIAA Player of the Week awards, DIII News Player of the Month honors in November and recognition on the D3Hoops.com Team of the Week.
"During my 16 seasons as a college basketball player and coach, I can confidently say that I have never been associated with a team member that has had a larger impact on the growth of a program than Jared Holmquist," said Brooks Miller, head coach of Trine's men's basketball team.
"It would also be impossible to quantify what an integral role Jared has had in our team chemistry through his leadership and work ethic," Miller said. "His positive approach to our weekly trips to the Humane Society, his 3.90 GPA in the classroom and his growth as a player through grueling offseason workouts have set a gold standard of how a student-athlete should conduct himself as a teammate and in life. Jared has galvanized our locker room and created an environment of unselfishness by holding himself accountable with his preparation and attitude."
This season, Holmquist ranked among the nation's best in numerous statistical categories. His 216 made field goals were 18th-most in the country, while his scoring average of 21.5 points per game ranked 31st. He also ranked 19th in the nation in total points scored, 30th in minutes played, 30th in free throws made and 39th in free throw percentage.
Behind Holmquist's stellar play, the Thunder reached the MIAA Tournament Championship for the first time since joining the conference in 2004. Holmquist was at his best as Trine clinched its tournament appearance behind a career-high 35-point effort from the senior. He followed that up with a 33-point effort as the Thunder defeated regular-season champion Hope to advance to the title game.
Coach Miller attributed Holmquist's success to his ability to redefine his own skill-set to compete against bigger players and contribute to team success.
"As a 6'4 undersized post player in the MIAA with zero career dunks, Jared knew it would be vital to develop a mid-range game through the use of shot-fakes and jab-steps in order to shoot over the likes of bigger post players," Miller said. "He also learned to value positioning and communication to make up for mismatches defensively while also utilizing those same skills to exploit those same mismatches in order for us to score."
The end result was a career that produced 1,538 career points, the ninth-most in team history. Along the way, Holmquist started more games than any player on record in program history. He ranks second on the team's all-time list in blocks and third in rebounds.
Trine concluded its season 18-9 overall and placed fourth in the MIAA with a 7-7 mark in conference games. The Thunder made its first-ever appearance in the MIAA Tournament Championship won its most games as a member of NCAA Division III.