Nicholls named interim dean for Jannen School
Amy Nicholls, chair and assistant professor of the Department of Humanities and Communication, has been named interim dean for the Jannen School of Arts and Sciences at Trine University.
"Amy has been an outstanding chair of the Department of Humanities and Communication over the last two years" said A. Allen Hersel, Ph.D., vice president for academic affairs. "Her experience will help bolster enrollment and ensure that an outstanding education will be provided in the Jannen School."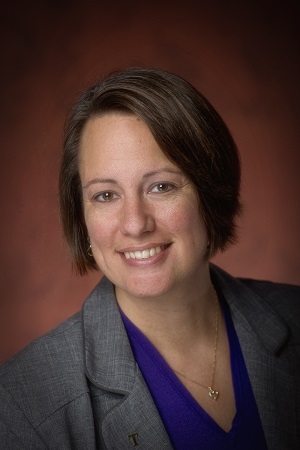 Nicholls replaces Craig Laker, who recently was named dean of the College and Graduate and Professional Studies. She will oversee five departments – Mathematics, Informatics and Physics; Criminal Justice, Psychology and Social Studies; Music; English as a Second Language; and Humanities and Communication.
"I'm excited about the opportunity to be an advocate for the Jannen School of Arts and Sciences, for general education and for the majors and the programs of our school," Nicholls said. "I hope I can continue in the same spirit as Craig Laker and model my interim position after what he has done.
"I hope that the perspective I bring results in greater connection within the departments of the school. I also look forward to the return of our English Education major and helping to integrate that into the Franks School of Education."
Nicholls will continue to teach and serve as chair of the Department of Humanities and Communication for this school year.
During her five years of teaching at Trine, Nicholls has received the Jannen Renaissance Scholar Teaching Award (2016) and the Robert Andrew and Anne Ewing Smith Excellence in Teaching Award in Arts and Sciences (2013).
Nicholls earned her Bachelor of Arts degree in secondary English education from Tri-State University, now Trine, in 1997, and her Master of Arts in English from Western Michigan University in 2004. Her teaching experience includes serving as a Florence Crane Women's Correctional Facility adjunct for Kellogg Community College in Coldwater, Michigan; teacher at Camden-Frontier High School in Camden, Michigan, and Coldwater High School in Coldwater, Michigan; adjunct faculty at Baker College in Jackson, Michigan; and as instructor and assistant professor at Trine.