Trine adjunct named Special Needs Teacher of the Year
By Jeff Jones
KPC Media Group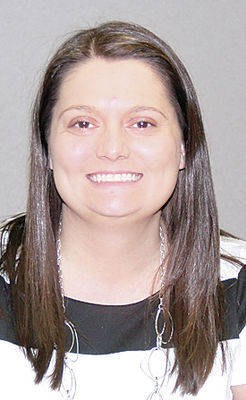 BUTLER — As an elementary student, Katie Thomas experienced problems with reading and comprehension.
She had someone there to offer guidance and encouragement.
Now Thomas, 32, is doing the same, working with emotionally disabled students at Eastside Junior-Senior High School through the Northeast Indiana Special Education Cooperative and as an adjunct professor teaching students who are pursuing elementary and special education degrees at Trine University.
Thomas, a 10-year teacher at Eastside, recently was selected as the Greater Fort Wayne Business Weekly Special Needs Teacher the Year by KPC Media Group.
"When I was in third grade, and in all of elementary school, I struggled significantly in reading," Thomas said.
"In third grade, I was placed in a resource room type of environment — a pull-out environment for reading instruction — and I actually had a teacher who did more for me than to teach me how to read. She taught me that it was OK to make a mistake and learn from it.
"That just made the difference in everything for me," Thomas said. "I suddenly became able to not be scared to answer and be wrong. I wasn't scared of a mistake anymore.
"I decided I wanted to be that person, so it was an obvious fit for me to become a special education teacher."
Wendy Lane-Ginder was that teacher. Ginder now serves as DeKalb County special education director for the Northeast Indiana Special Education Cooperative.
"Katie has an innate ability to teach all children and reach all kids," Ginder said. "To me, that's a gift. Some teachers have that and some don't, and she has that. When kids are in crisis, they will listen to her.
"I challenged her to take on some additional leadership responsibilities," Ginder added. "She's really stepped up to the plate and offered to do that. Anybody can call Katie at any time, and she'll offer assistance with teaching strategies and methodologies."
"We can always count on Katie to go above and beyond, and one of those things is to teach our teachers," said Mary Burton, executive director for the cooperative, comprised of 13 school districts that share resources in northeast Indiana.
Burton explained that Thomas teaches a crisis-prevention course for teachers, administrators and paraprofessionals to de-escalate students who are in crisis.
"This (award) doesn't come as a surprise," Burton added. "Katie is a leader and very passionate about what she does. We're just very, very proud of her, and very fortunate to have her."
"It was kind of mind-blowing for me when I got hired at Eastside that Wendy was my mentor all over again," Thomas said. "She was amazing to me as a child. She helped me get over the fear of making a mistake, and she helped me get over the fear of making a mistake as a teacher.
"I just remember she would always say to us that what we're doing is really hard, and the fact that you just did this, and did it so well, that you were amazing. She always used such positive talk and built us up so much that we just felt so good about ourselves.
"She was really the first (teacher) who told me it was OK to make a mistake, that we were going to learn from it. It felt very empowering, that it was OK to be me, that it was OK to not be the best reader in class, that it was OK to make spelling errors.
"The biggest job as a teacher — and I have a unique role as a special education teacher — I can work on things more than just the state standards with them. I can work with them through all kinds of life obstacles. I look at it as my job every day to find teachable moments, going off curriculum or off lesson plan, and I just talk to a student about how we can handle things better or talk out situations, and relating it as much as possible to their life after school."
Thomas was nominated by Eastside teacher Tim O'Keefe. "(She) truly understands the abilities and needs of her students, and she empowers her students to succeed," O'Keefe wrote in his nomination letter. "She has had a profound impact on the lives of multiple students and their families."
"She just has an outstanding way of being pleasant in very challenging situations," added Eastside principal Larry Yoder. "She advocates for the kids and she understands their disability. She works with parents and works with teachers.
"She juggles a 7-12 grade level, ranging from 12 to 18 years old. In that alone, there's challenges. An 18-year-old who's finishing his high school career is different than an incoming seventh-grader," Yoder said. "She's able to manage all of that and her teacher aides.
"She's amazing," he said.
"The students I work with currently have emotional disabilities or they are on the autism spectrum," Thomas explained. "Their disability comes out in how their social interactions are. Just walking down the hallway is difficult for them sometimes, the simple things that we take for granted. I call it the 'hidden curriculum' of a school. That's what can be so difficult for them.
"On top of them having difficulties with the social aspect of it all, some of them have learning disabilities or cognitive disabilities, so they are significantly below grade level. Every single one of them is unique, and every single one of them needs something different from me on a daily basis."
Thomas works with 19 students, but the number fluctuates. Some students are in and out of the program.
"Some students I see once a month. Some students I see once a day," she said. "Others, I see from the minute their feet hit the floor to the minute they leave the door."
Any teacher appreciates the words thank you. For Thomas, it comes by observing or learning of students' achievements.
"For me, it's watching them at lunch, getting a glimpse of them having an appropriate conversation, or hearing about when they were in a classroom and they did something really well," Thomas said. "That's rewarding for me."
A few weeks ago, one of her students was buying treats from the classroom's behavior store for good deeds. One day, Thomas explained the student was really concerned about getting three treats.
"He was budgeting his money to get three treats, and about a half-hour later, in came his partners from science class, and he pulled out these three treats (for them).
"Later, when I asked him about it, he said, 'You've always told us we need to be kind.' There's not a state standard for that. There's no other classroom that you can teach that, but in my room, we talk about being kind to one another," Thomas said. "That's the rewarding part for me."
Story and photo courtesy of KPC Media Group