Education grad now trains teachers
INDIANAPOLIS — When Megan (Callahan) Tolin graduated from Trine University as a science education major, she was looking forward to having an impact on the students in her classroom.
Six years later, she still has an impact on students, but now by educating their teachers and teaching faculty.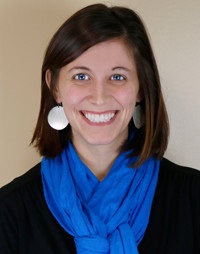 Tolin serves as assistant director of online design & learning for the Indiana University School of Education at Indiana University-Purdue University at Indianapolis. She said much of her time is spent assisting faculty in the School of Education, as well as current K-12 teachers, with online and blended course development and finding new ways to better integrate technology with their face-to-face teaching.
"I spend a lot of time in one-on-one sessions where I sit down with instructors and discuss their course design," she said. "What do they like? What do they want to change? How can we redesign some of their assessments? How can we use technology to enhance the work they are currently doing? What tools are out there to help them take their courses to a new level?"
It wasn't the path Tolin started on when she graduated from Trine. After finishing her degree, she accepted a high school science teaching position with DeKalb County Eastern Community Schools in northeast Indiana. She later took a similar position at Center Grove High School in Greenwood, Indiana.
During her time at Center Grove she completed her Master of Science in Educational Leadership from the IU School of Education. She also had the opportunity to take on some leadership roles in her school building and district that directly related to technology and professional development.
"Center Grove was and is a pioneer in the state when it comes to technology in the classroom," she said. "The district had just started its own online course offerings (Center Grove Global Campus). These courses were all created and taught by current CG staff. I thought it seemed like a fun challenge and was lucky enough to be selected as one of the teachers to create and teach an online class."
It was during this time she began to realize she had an interest in helping educators realize the opportunities offered by purposefully integrating technology into their lessons.
"I wanted to make a bigger impact," she said. "I loved teaching in my classroom and helping my students each year, but the idea of collaborating with other teachers meant I could impact a larger amount of students."
She took a position as a technology integration specialist at the Metropolitan School District of Pike Township for a year, then was offered the opportunity to transition into her current role at IUPUI. She said her work allows her to serve in an area she feels is important to the future of education.
"I am passionate about creating relevant learning experiences for students by redesigning learning opportunities and/or assessments," she said. "I think both K-12 schools and higher education institutions are pushing for change. A majority of teachers and faculty members see the need to transition, but change is difficult and it often is extremely slow."
She said while she is not at the head of a classroom today, the education she received at Trine still plays a role in her current work and the relationships she built with faculty were crucial in her professional development.
"Even though I am not considered a teacher in the traditional sense, I still view myself in that role, and the experience I gained at Trine gave me confidence in my abilities," she said. "Additionally, the personal connections, knowledge and mentorship I received from the Franks School of Education faculty truly impacted me as a person and a professional.
"After my third year of teaching, I was going to leave the profession. I had even gone so far as to be offered a job completely outside of my degree. Unsure of my next steps, I reached out to a former professor and one conversation made me realize I really wasn't ready to give up. I am extremely grateful I felt comfortable enough to have that conversation. Without it, I might not be where I am today."