Members of Trine community to assist in Torch Relay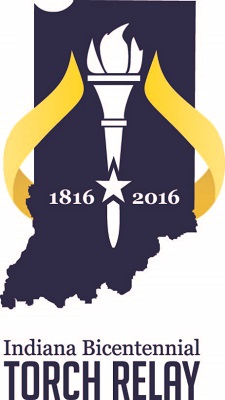 When the Indiana Bicentennial Torch Relay passes through Steuben County this fall, several current and former members of the Trine University community will play a part in carrying the torch.
The names of the state's torchbearers were announced during a press conference on June 29 at the Indiana Statehouse in Indianapolis. The relay will start Friday, Sept. 9, in Corydon, Indiana's first state capital, and culminate with a celebration on Saturday, Oct. 15, on the grounds of the Indiana Statehouse in Indianapolis. The torch relay will touch each of Indiana's 92 counties during the 3,200-mile journey across the state.
The relay is scheduled to pass through Steuben County on Oct. 2, the closing day of Trine's Homecoming and Family Weekend. Much of the Steuben County portion of the relay will take place in Pokagon State Park.
Well-known businessman, community leader and radio sportscaster David Ballinger was named a torchbearer posthumously. Ballinger, a 1970 graduate of Tri-State College who died in 2015, was among the first class of inductees to the Tri-State University Hall of Fame, now Trine University Hall of Fame, as a dual-sport athlete. He also worked for a time at Tri-State in development. Steuben County will provide a participant to represent Ballinger in the relay.
Ballinger's fellow broadcaster Bill Stockberger, a 1979 alumnus and advisor to Sigma Phi Epsilon at Trine, will be part of the relay. Stockberger serves as program director for Boomerang Backpacks and is a board member for the Steuben County United Way.
Other Trine alumni who will take part in the relay will be Angola Middle School teacher Paul Beckwith, a 1977 graduate, and Angola City Engineer Bill Boyer, a 1971 graduate.
Lou Ann Homan, a storyteller and columnist who serves as an adjunct professor in the Department of Humanities and Education, will be a torchbearer, as will Dr. Chester A. Pinkham III, retired professor of chemistry. Former faculty members — now teachers — Susan Stackhouse and David Olson also will help carry the torch.
"The 2,000-plus Hoosiers selected as torchbearers embody the Indiana traditions of service, civic pride, community involvement and volunteerism," said Lt. Governor Eric Holcomb. "As we reflect on Indiana's first two hundred years, it is only fitting that we celebrate Hoosiers who serve as inspirations in their communities."
Torchbearers were nominated by the public and selected by local committees on a county-by-county basis. More than 4,000 torchbearer nominations were received. Those selected are Hoosiers who demonstrate exceptional public service, excellence in their profession, acts of heroism or volunteer service to their neighborhood, community, region or state.
Developed by the Indiana Office of Tourism Development, the relay is patterned after the Olympic Torch Relay and is designed to connect Hoosiers everywhere during the bicentennial year. The unifying nature of the torch relay underscores the achievement, influence and aspirations of Indiana and its people while symbolically passing the torch to future generations of Hoosiers. The torch relay route was charted by a committee of representatives from multiple state agencies and the private sector. The route showcases locations of natural beauty, local interest and historic significance.
About the Indiana Bicentennial Torch Relay:
The Indiana Bicentennial Torch relay is designed to inspire and unify Hoosiers as one of the major commemorative events of the 2016 Bicentennial celebration. The more than 2,200 community-nominated torchbearers will pass the torch throughout 92 counties, symbolically connecting generations to "ignite" Indiana's future. For more information about the Torch Relay, visit http://www.in.gov/ibc/torchrelay/.