Jarzyna to lead Trine marketing, public relations
Experienced marketing and public relations professional Dave Jarzyna will join Trine University as Vice President of Marketing and Communications beginning April 18.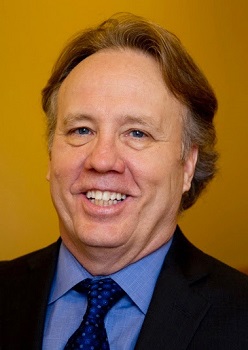 As vice president, Jarzyna will lead efforts in marketing, communications and public relations for Trine University. He will be responsible for developing and implementing integrated strategies and marketing communication plans that emphasize Trine's unique brand by enhancing the university's visibility, viability, and vibrancy in alignment with its strategic plan.
"We're thrilled that someone of Dave's caliber is joining us in this key position and look forward to all he will do to promote the many positive happenings here at Trine," said Trine University President Earl D. Brooks II, Ph.D. "With continuing growth in our student body and academic programs, an expanding campus, recognition of the quality education offered here and a growing positive economic impact throughout northeast Indiana, we have an exciting story to tell and we look forward to seeing that message communicated in a variety of venues."
"I am delighted to be joining the outstanding leadership team at Trine," Jarzyna said. "This is a growing, thriving university with an incredible story to tell, and I look forward to working with the entire Trine community to build awareness of the university and the exciting opportunities that await Trine students."
Jarzyna comes to Trine from Hamline University in St. Paul, Minnesota, where he most recently served as associate vice president of marketing. At Hamline, he managed a team that developed and executed strategic marketing plans to ensure the university met its enrollment and operational goals. Prior to his promotion to associate vice president, Jarzyna served as assistant dean for marketing and recruitment for Hamline's School of Law, Minnesota's top-ranked private law school before its recent combination with William Mitchell College of Law, which formed Mitchell Hamline School of Law.
Jarzyna also was vice president of college relations and admissions at Dunwoody College of Technology in Minneapolis. His agency experience includes serving as vice president at several public relations and marketing firms in Minnesota, and he also was director of marketing at WCCO Radio, general manager at Midwest Radio Networks and director of marketing and broadcasting for the Minnesota Twins baseball club.