Swick promoted to lead business school at Trine University
FEB. 24 – Trine University promoted a professor and graduate program director to lead the Ketner School of Business in the College of Engineering and Business.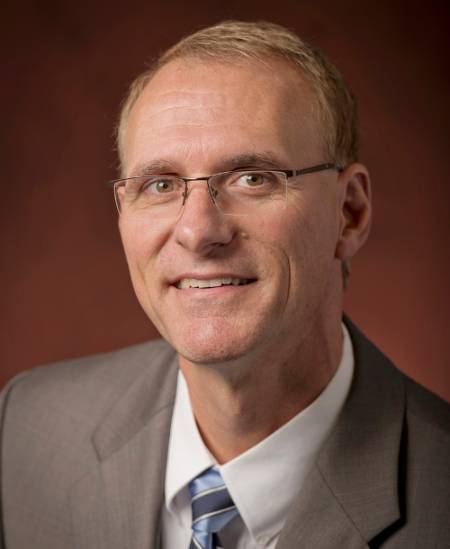 Since joining Trine in 2012, Thomas "Toby" Swick has played a key role in advancing the business school. Swick has served as the director of graduate programs in the Ketner School since September 2014. While at Trine, he's also taught international business and led students on study abroad trips to China, Germany, Austria, Switzerland and Italy. He joined Trine as an assistant professor and teaches business and management classes. In May 2015, he received the Charles Willian, Nelle Paris and Mary Ann McKetta Excellence in Teaching Award in Business. In spring 2015, Swick was named chair of the Ketner School.
While serving as director of graduate programs in business at Bowling Green State University, he responsible for the executive MBA, Dana Corporation MBA, full-time MBA, evening MBA and Master in Organization Development programs. Swick also has experience as director of graduate programs at Indiana University, Kelley School of Business where he was responsible for the part-time MBA and Master of Science in accounting programs.
His career in higher education began in 1995 with a teaching assignment at BGSU School of Human Movement, Sport and Leisure Studies. Swick has also taught at Indiana University, Kelley School of Business; and BGSU College of Business Administration, Department of Marketing.
Before his career in higher education, Swick worked for five years in sales in the marine and sporting goods industries. He served as key accounts sales manager, regional account representative and area sales representative for water sports and boat companies.
Swick earned a Master of Business Administration and Bachelor of Science in business administration, marketing from BGSU.
Swick is the 2008 recipient of the Marie Hodge Advising Award. He has also served in myriad capacities including the BGSU Distance Learning Advisory Board, College of Business Administration MBA Committee, Professional Development Committee of the Bowling Green Chamber of Commerce, mentor with First Year Experience Program, St. Thomas More BGSU Faculty/Staff Advisory Board and training facilitator for Student Affairs Customer Service Initiative.
His volunteer efforts include Shape Up, Steuben; Habitat for Humanity; Super Bowl XLVI Minority Business Development Program; WBGU (PBS station); BGSU Alumni Association and BGSU Athletics.