Trine prof, students, take part in rally to protect forests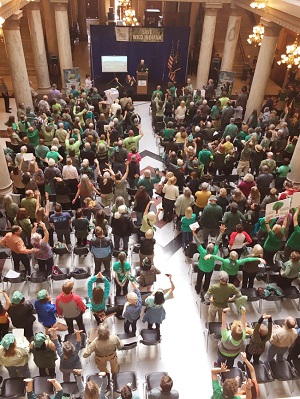 INDIANAPOLIS — Two Trine University students and a professor took part in a rally Monday, Feb. 20, to support a bill that would preserve 10 percent of Indiana's forests.
The rally was hosted by the Indiana Forest Alliance in support of Senate Bill 420, which mandates the preservation of 10 percent of Indiana's state wildlife areas. The group estimated about 650 people attended the event.
"This bill was not passed this year, but will be presented again next year after the Department of Natural Resources has done some research, as requested by the Senate," said Brandy DePriest, assistant professor in the Department of Humanities and Communication and director of the Art Eberhardt Environmental and Community Outreach Center.
DePriest said students Luke Martin of Fort Wayne and Jenny Serrano of Martinsville, who are both part of Trine's SPEAK for the Earth student environmental organization, were able to speak with State Sen. Susan Glick, chair of the Natural Resources Committee, and express their support of the bill.
"Students learned a valuable lesson in our legislative system and the importance of letting our political leaders know how we feel about the issues that affect us," DePriest said.
Photos by Brandy DePriest