Holtz returns to Trine's Distinguished Speaker Series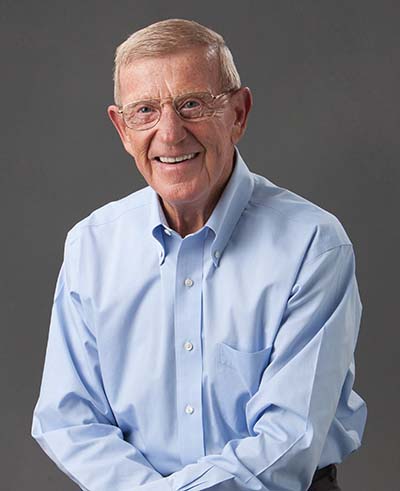 Former college football coach Lou Holtz will return to Trine University's Distinguished Speaker Series on Oct. 16.
Holtz, the namesake for Trine's Master of Science in leadership program, previously spoke in the series in March 2015. He served as the university's Commencement speaker in 2011 and received an honorary doctorate from Trine at that ceremony.
Holtz also was a member of the university's board of trustees and will be recognized with emeritus trustee status during the Distinguished Speaker Series event.
Held in the Ryan Concert Hall of the T. Furth Center for Performing Arts, the Distinguished Speaker Series begins at 2:30 p.m. and is free and open to the public.
Holtz is the only coach in the history of college football to take six different teams to a bowl game, win five bowl games with different teams and have four different teams ranked in the final Top 20 poll.
The Follansbee, West Virginia, native became the 25th head coach of Notre Dame following two seasons at Minnesota (1984-85), seven at Arkansas (1977-83), four at North Carolina State (1972-75) and three at William & Mary (1969-71). He spent the 1976 season as head coach of the New York Jets of the National Football League.
After his departure from Notre Dame following the 1996 season, he joined CBS Sports' College Football Today for two seasons as a sports analyst and worked with United States Filter (a global provider of water treatment) as a customer relations spokesperson. From there he went on to be head coach at the University of South Carolina for six seasons from 1999-2004, where he led the Gamecocks to back-to-back Jan. 1 bowl games for the first time in the history of the school and defeated Ohio State in consecutive bowl appearances.
Until 2014, Holtz was a college football studio analyst on ESPN. He appeared on ESPNews, ESPN College GameDay programs, SportsCenter, and served as an on-site analyst for college football games. He is currently in his second year with SiriusXM Radio as a co-host for two sports programs: a golf show broadcast throughout the year entitled "Holtz In One" and two weekly college football shows during the season.
He also is a widely sought-after speaker and author of three New York Times best-selling books. He and his wife Beth are the parents of four children, grandparents to nine children, and currently reside in Orlando, Florida.
Designed to give educational enrichment that complements other learning experiences, Trine University's Distinguished Speaker Series brings experts in various fields to campus throughout the school year. All Distinguished Speaker Series events are free and open to the public.
For more information, contact Gretchen M. Miller at millerg@trine.edu or 260.665.4312.