Trine Day coming April 13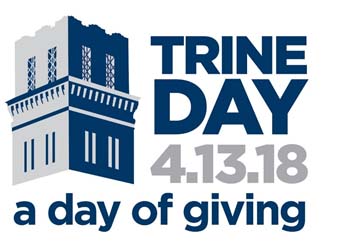 On April 13, the entire Trine Community will come together to celebrate Trine Day. This special occasion is a day of giving for Trine University. Our goal is to grant opportunities and transform lives by building a better, stronger, more affordable Trine.
Through social challenges, real-time leaderboards, and some good old-fashioned rivalry, you will have the chance to push your favorite program or student organization to the top — and win bonus funds!
You can get involved by making a financial donation on Trine Day. You also can get involved by wearing Trine gear (T-shirt, sweatshirt, hat, etc.) on April 13. Please follow the campaign progress throughout the day and be sure to take pictures and post online.