Pentagon officer from 9/11 to speak at Trine remembrance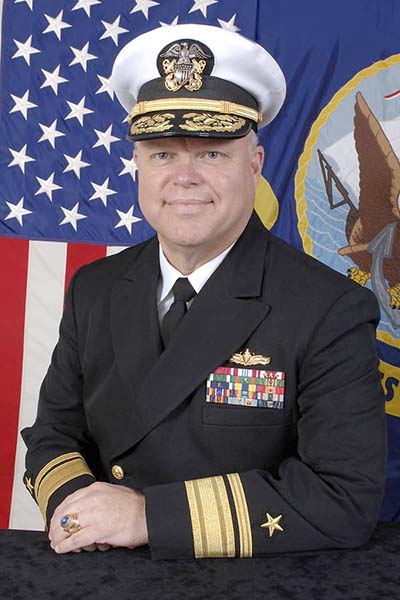 A retired rear admiral who was commanding officer of Navy Command Center Detachment 106 at the U.S. Pentagon on Sept. 11, 2001, will speak during Trine University's Distinguished Speaker Series 9/11 Memorial on Wednesday, Sept. 11.
The event, beginning at 10 a.m. in the Ryan Concert Hall of the T. Furth Center for Performing Arts, is a remembrance of those who lost their lives in the 9/11 terrorist attacks. All Distinguished Speaker Series events are free and open to the public.
For those unable to attend, the event will be livestreamed on the Trine Broadcasting Network at livestream.com.
Rear Admiral Edward "Sonny" Masso (USN Ret.) was a captain when the Command Center took a direct hit from American Airlines Flight 77 just after 9:40 a.m. on 9/11. Thirty-four of the Command Center team were killed that day, including officers, sailors, government service professionals and contractors. Other personnel lost their lives in the higher floors just above the Command Center after rescue efforts failed due to the explosive nature of the fire, smoke and destruction that ensued.
Masso will speak about the events of 9/11 from his personal experience, including the professional actions of the men and women of the Navy Command Center up to the moments leading up to the act of terrorism. Those in attendance also will learn of the aftermath, first responder roles, as well as how the Navy responded within 22 minutes of the attack by resuming operations, and continuing activities and missions that only moments before had been reduced to fire and rubble.
The son of an Estonian refugee, the San Clemente, California, native graduated from the University of Mississippi in 1977 and was commissioned an ensign through the NROTC program. While assigned aboard the USS Paul F. Foster (DD-964), he served as 1st Lieutenant, Navigator and ASW officer. Following his division officer tour, he was a Joint Chiefs of Staff intern and a junior officer assignment officer in the Bureau of Naval Personnel's Surface Warfare Distribution Division.
In 1984, he transitioned to the Select Reserve (SELRES), with assignments including the USS Ainsworth (FF-1090) augment unit; Fleet Training Group San Diego; executive officer, USS Constellation (CV-64) augment unit; commander, Reserve Readiness Region 16; US European Command; executive officer, NMCRC Atlanta; and assistant chief of staff for Operations (N3), COMSIXTHFLT Det 802.
Command assignments include Naval Communications Station Diego Garcia; USS Reeves (CG-24) augment unit; Naval Computer and Telecommunications Station Iceland; Fleet Support Training Unit Atlanta; COMFAIRCARIB 107; Navy Command Center 106; CINCEASTLANT 108; and commander, Striking Fleet Atlantic Det 102.
Flag assignments include deputy commander, Naval Surface Force US Atlantic Fleet; vice commander, Naval Surface Forces Command; assistant deputy chief of Naval Operations (Manpower, Personnel, Training and Education) (OPNAV N1B); and commander, Navy Personnel Command/deputy chief of Naval Personnel.
During his tenure at Navy Personnel Command, Masso led Task Force Individual Augmentation, spearheading the Navy's effort to source manpower requirements in support of operations Enduring Freedom and Iraqi Freedom and JTF Horn of Africa. He also was flag lead for the Human Resources community and was the Manpower, Personnel, Training and Education domain liaison to the Warfighter Enterprises.
Masso's decorations include the Distinguished Service Medal, Legion of Merit (Gold Star), Defense Meritorious Service Medal, Meritorious Service Medal (3 Gold Stars), Navy and Marine Corps Commendation Medal and Navy Achievement Medal (Gold Star). He is most proud of being an honorary Chief Petty Officer, and of the Meritorious Unit Commendation awarded to the men and women of Navy Command Center 106 for actions during and following the 9/11 terrorist attacks.
Masso retired in October 2009 after more than 32 years of service in the active and reserve components of the Navy. His civilian career found him engaged in business development, strategic planning and operations analysis in the areas of Data Analytics, Missile Defense and Cyber Security programs, operating as a senior consultant with his company, Flagship Connection. He currently serves on the Board of Advisors of Blue Ridge Networks, a cybersecurity company in Chantilly, Virginia, as well as serving as a member of the Strategic and Technical Advisory Team for the Commander of the Missile Defense Agency, and as a Senior Fellow at the Potomac Institute for Policy Studies in Cyber Security.
In March 2019, he became executive director of the Naval Historical Foundation, located in the Historic Washington Navy Yard.
Designed to give educational enrichment that complements other learning experiences, Trine University's Distinguished Speaker Series brings experts in various fields to campus throughout the school year. All Distinguished Speaker Series events are free and open to the public.
For more information, contact Gretchen Miller at millerg@trine.edu or (260) 665-4312.