Trine expands health sciences commitment with Bandemer appointment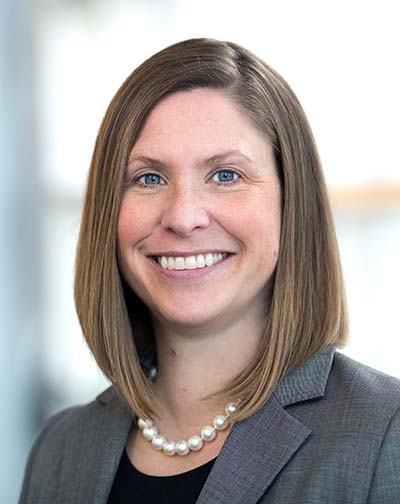 FORT WAYNE — Further demonstrating and enhancing its growing strength in health sciences education, Trine University will welcome Whitney Bandemer, J.D., as its first vice president for health sciences, effective Nov. 13.
The new Cabinet-level position has total oversight for the university's Health Sciences Education Center, located on the Parkview Randallia campus in Fort Wayne.
Bandemer brings extensive experience in building and managing healthcare degree programs to her new post at Trine. She most recently served as vice president for human resources and strategic initiatives at Manchester University, where she played a key role in the development, launch and accreditation of that institution's College of Pharmacy and in the construction of its Fort Wayne campus.
She also served in a similar capacity at the Appalachian College of Pharmacy in Oakwood, Virginia, prior to joining Manchester.
"With her proven record of leadership in health sciences academic programs, Whitney is the perfect person to build on the success Trine University already has enjoyed and take it to the next level," said Earl D. Brooks II, Ph.D., Trine University president. "We are excited to welcome her to the Trine community, and look forward to continued growth and expansion for the university's health sciences programs under her supervision and direction."
At Trine, Bandemer will be responsible for advancing Trine University's program expansion and overall operations in health sciences in accordance with the university's strategic priorities. Her responsibilities will include oversight of the Health Sciences Education Center, including articulating clear priorities and goals for the center's operation and development in alignment with the university's strategic plan, policies and procedures.
She also will establish and oversee all operational and auxiliary services for the center — including human resources, information technology, marketing and enrollment, and public relations — to ensure students are provided with strong programs and services for an exceptional education and campus experience.
"The momentum Trine has built in the health sciences is exciting and energizing, and I am humbled by the opportunity to lead the Health Sciences Education Center in Fort Wayne," Bandemer said. "My goal is to support and lead the health sciences team in growing existing and new programs that provide students with meaningful, inclusive, career-focused experiences that support employers' needs in Northeast Indiana."
Bandemer holds a Doctor of Jurisprudence degree from the University of Tennessee College of Law and a Bachelor of Arts in government from the University of Virginia. She is a member of the bar in Virginia and Tennessee.
She is extensively involved in the Fort Wayne community, serving on the Board of Directors for the AWS Foundation, Fort Wayne Zoological Society, and as chair of the Board of Directors for the Embassy Theatre. She also is a member of the Canterbury School Community Advisory Board.
Since opening its Health Sciences Education Center in 2014, Trine University has continued to develop and expand its health sciences programs in Fort Wayne. The center is home to Trine's first doctoral program, the Doctor of Physical Therapy, which graduated its first class and was accredited by the Commission on Accreditation in Physical Therapy Education in 2017.
Trine launched its Master of Physician Assistant Studies in 2018 and its Associate of Science in Surgical Technology, located in a new expansion developed in partnership with Parkview Health, in 2019. The university will begin its RN-to-BSN program in fall 2020, with future plans including certified registered nurse anesthetist, occupational therapy and speech pathology degrees.