NBA superstar, business leader Isiah Thomas to highlight Trine Gala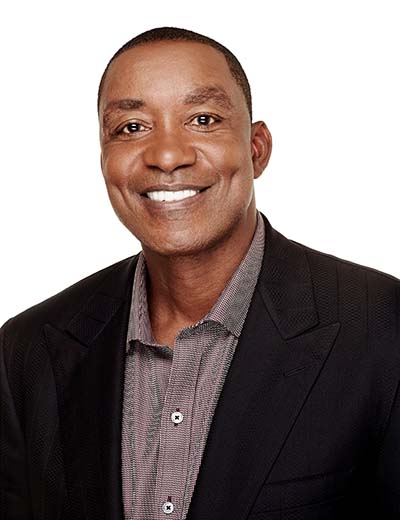 NBA Hall of Famer, successful businessman and philanthropist Isiah Thomas will highlight efforts to support Trine University students, providing the keynote address for the university's 17th annual Scholarship Gala on Feb. 8.
Born on Chicago's West Side as the youngest of nine children, Isiah Lord Thomas III played basketball two seasons at Indiana University, leading the team to the NCAA Championship in 1981. He went on to a storied 13-year career with the Detroit Pistons, playing a key role on a team that won back-to-back NBA Championships in 1989 and 1990, and earning Finals MVP honors in 1990.
He was a 12-time NBA All-Star, earning league MVP honors in 1984 and 1986, and was named one of the 50 Greatest Players in NBA History in 1996.
As chairman and CEO of ISIAH International LLC and Isiah Imports, a certified minority-owned investment holdings company, he has invested in new and existing businesses for more than 30 years. He also has been president and alternate governor of the WNBA's New York Liberty since 2015, where he has elevated women to key roles within the WNBA.
His philanthropic efforts have supported educational, anti-crime and anti-poverty programs nationwide. Inspired by his mother's work to improve the lives of disadvantaged women and families in Chicago, Thomas founded the Mary's Court Foundation in her honor to support the health, safety, academic and personal achievement of Chicago's youth and youth around the country.
He also has established scholarships at Indiana University, where he has supported more than 100 criminal justice students, and at the University of California at Berkeley.
"As someone who has enjoyed success in multiple fields and has personally supported efforts to improve the lives of young people and provide opportunities through higher education, Isiah Thomas is the perfect speaker for the Scholarship Gala," said Earl D. Brooks II, Ph.D., Trine University president. "We look forward to all he has to share with the Trine University community."
The Gala starts at 6 p.m. in the Keith E. Busse/Steel Dynamics, Inc. Athletic Recreation Center on the Trine campus. In addition to Thomas' presentation, the evening will feature wine tasting, a gourmet dinner by Bon Appetit, live music provided by the Trine University Jazz Band, and live and silent auctions including sports memorabilia, vacations, jewelry, experience packages and artwork.
Sponsorship packages and tickets are available through Feb. 1. To reserve tickets ($100 each), donate an auction item or get sponsorship details, visit trine.edu/gala or call (260) 665-4114.
Since its inception, the Scholarship Gala has raised more than $4 million for Trine University student scholarships, including nearly $1 million at the 2019 event. Scholarship funds are a critical part of allowing students to attend Trine, which awarded more than $33 million in institutional aid in 2018-19.
The university will offer the opportunity to fund $500 Books and Beyond Scholarships during the Gala. Contributions to the Books and Beyond Scholarship program go directly to financially disadvantaged students, allowing them to purchase needed books, computers, school and lab supplies, and meals. Funds also help students pay modest account balances that will allow them to register next semester for classes.
Trine board chair and alumnus Dr. Rick L. James and his wife, Dr. Vicki L. James, and The James Foundation, Inc., as they have for the past few years, are offering a matching grant for Books and Beyond scholarships. The match will be $250,000.
"Scholarships are critical to students being able to afford the quality private education offered at Trine University," said Rick James. "Vicki and I are proud to once again support the Scholarship Gala and Books and Beyond, which assists in areas not covered by traditional financial aid. Trine played a huge part in preparing me to succeed, and I'm glad to help provide this opportunity to the next generation."
For more information on the 2020 Trine Scholarship Gala, contact Mary Ditmars at ditmarsm@trine.edu or Maureen Bernath at bernathm@trine.edu, or call (260) 665-4114.