Trine hosting 'What is Philanthropy' showing, Q&A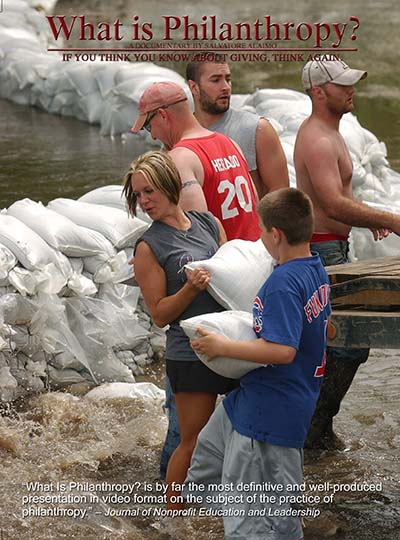 The Student Foundation of Trine University will host a viewing of the documentary "What is Philanthropy?" followed by a question-and-answer session with filmmaker Salvatore Alaimo, Ph.D., on March 27.
The free event begins at 7 p.m. in Fabiani Theatre inside the Rick L. and Vicki L. University Center, and is open to the public. A drawing will be held for a Blu-ray copy of the film.
Philanthropy is synonymous with American history, principles and culture; yet it remains an evolving and largely misunderstood topic. "What is Philanthropy?" seeks to enhance the public's understanding of philanthropy and its role in American culture and society.
In addition to leading scholars and average citizens, the feature-length documentary includes perspectives from:
Mike Farrell, actor known for his roles in M*A*S*H and Providence
NFL quarterback Alex Smith
Evelyn Lauder from the Estee' Lauder Companies
Civil rights leader Dr. William G. Anderson
Nell Newman, co-founder of Newman's Own Organics
US Senator Charles Grassley.
The film, produced with support from the School of Public, Nonprofit and Health Administration (SPNHA) at Grand Valley State University, the Johnson Center for Philanthropy and WGVU-TV, was an official selection of four film festivals and a nominee for an Eclipse Award.
Alaimo, an associate professor in the SPNHA, teaches graduate and undergraduate courses in philanthropy and nonprofit administration. He has experience working at nonprofit organizations including the United Way and the Girl Scouts, and has consulted for nonprofits including the National Benevolent Association, the University of Georgia, Georgia Ballet, International Rescue Committee, United Way and Latin American Association. He has published chapters and articles in textbooks and academic journals dealing with nonprofit organization leadership.
The event is sponsored by The Student Foundation and the Office of Alumni and Development.
For more information, contact Steven Nicolet, director of annual giving, at (260) 665-4316.