Mad Ants president to speak as Trine launches Center for Sports Studies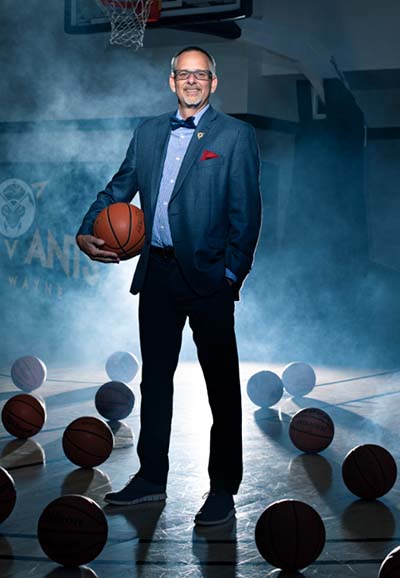 Fort Wayne Mad Ants President Tim Bawmann will talk about his experiences as part of several professional sports organizations as Trine University launches the Trine Center for Sports Studies on Feb. 20.
Bawmann's presentation will begin at 9:45 a.m. in the T. Furth Center for Performing Arts, and is free and open to the public. A question-and-answer session will follow.
Brandon Podgorski, assistant professor of sport management and director of the Trine Center for Sports Studies, also will introduce and discuss the Trine Center for Sports Studies.
"The Trine Center for Sports Studies brings together people from several academic departments as well as athletics to provide resources for a deeper academic focus on sports and the sports industry, and to better equip Trine students looking ahead to a career in these fields," Podgorski said.
Bawmann joined Pacers Sports & Entertainment in 2016 as the Fort Wayne Mad Ants' president after 28 seasons in minor league baseball. Prior to joining the Mad Ants, he served as president and general manager of the Lowell Spinners, Class A affiliate to the Boston Red Sox, from 2003-2016.
Under Bawmann's leadership, the Spinners won numerous league awards and received national recognition for their out-of-the-box promotions. He was voted the 2009 New York Penn League Executive of the Year.
His other MiLB stops include: Houston Astros/Kissimmee Cobras (Florida State League) 1988-1995; Quad City River Bandits (Midwest League) 1997-2001; and the Montreal Expos/Brevard County Manatees in 2003. He holds a bachelor's degree from the University of Wisconsin-Platteville.
"Tim has a great background in sports. With experience in both professional baseball and basketball, he's the perfect person to help kick off the Trine Center for Sports Studies," said Podgorski.
The Trine Center for Sports Studies is a multidisciplinary teaching and experiential learning collaborative at Trine University focusing on the study of sports and the international sports industry. The Center draws from well-respected Trine University programs and courses in business, health sciences and communication to provide the broadest range of sports-related academic majors, minors and internships to prepare Trine students for this fast-growing, dynamic international marketplace.
Last Updated: 02/12/2020