Acclaimed speaker, author returns for Trine's MLK celebration on Feb. 7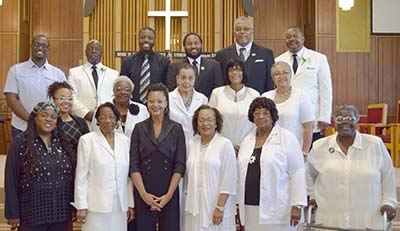 Dr. Joe Martin's presentation during Trine University's annual celebration of the life and legacy of Dr. Martin Luther King Jr. last year left a powerful impression on all who attended.
"He talked a lot about adversity and how to overcome it, sharing from his own experiences," said Deborah McHenry, advisor for Trine's Multicultural Student Organization, which hosts the event. "And he did it in a way that lets people know they can get through adversity to the other side."
So the organization decided to bring him back for the 2020 program.
Themed "Unity is Our Greatest Strength," the celebration will begin at 7 p.m. Feb. 7 in Ryan Concert Hall of the T. Furth Center for Performing Arts, and will be free and open to the public. Refreshments will be served.
The event also will feature performances by the Union Baptist Church Mass Choir of Fort Wayne and Chris Ford and Sounds of Redemption. In addition, Angola Mayor Richard Hickman and students from Trine University's Multicultural Student Organization will participate in the program.
An award-winning speaker, university professor and author, Martin was the youngest tenure-earning faculty member ever hired to teach at a state university in Florida at age 24. He also was the youngest professor at his institution to be nominated twice for the "Distinguished Teacher's Award."
In addition, he has taught students at all levels in K-12, including Title I, alternative education and gifted students. As an educational speaker and consultant, he trains more than 45,000 teachers and administrators each year.
Martin has addressed more than 750 organizations, associations, businesses, colleges and universities, churches, and public school districts, helping hundreds of thousands of students and staff members across the country achieve more, live and serve more passionately, and maximize their leadership potential.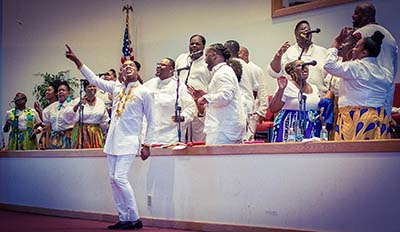 Outside of education, he has worked as a top sales trainer for a Fortune 500 company and as a public relations professional at both the state and federal government levels, including a position as communications director with the Florida Governor's Office.
He currently hosts the #1-rated radio podcast on iTunes for Christian men, and has made guest television appearances on ABC, NBC, and TBN. He is the author of nine books and serves as a columnist for several national online publications.
He holds a B.A. in public relations and an M.A. in mass communication from the University of West Florida, and an Ed.D. in curriculum development from Florida A&M University.
The Union Baptist Church Mass Choir includes 25 members plus the minister of music and three musicians (drummer, organist and pianist). Music minister Niyoki Chapman has performed as part of the sister act Milenia, which toured with Prince for five years. As a solo artist, she released two nationally distributed gospel projects, with her first single making the Top 10 on the National Billboard Gospel charts.
After recording in Nashville, she returned to Fort Wayne in 2010, beginning in her current position at Union Baptist. She also serves as operations and donor relations manager for the Unity Performing Arts Foundation, which supports the world-renowned Voices of Unity youth choir.
Formerly the Fort Wayne Community Choir, Chris Ford and Sounds of Redemption features voices representing people from all walks of life. The group performs lively, upbeat Gospel music from the days when church choirs sang choir music, bringing crowds to their feet at church and civic events throughout the area.
Top photo: Joe Martin, Ed.D., speaks during the 2019 celebration of the life and legacy of Dr. Martin Luther King Jr. at Trine University. Martin will return on Feb. 2 for the 2020 event. (Photo by Dean Orewiler)
Top right: The Union Baptist Church Mass Choir
Bottom right: Chris Ford and Sounds of Redemption
Last Updated: 01/09/2020