Conference USA's Philippi to speak at Trine virtual event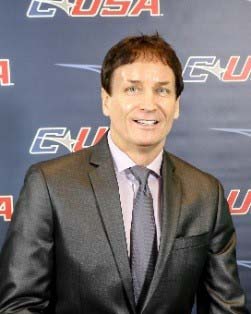 A top official with one of the nation's premier NCAA Division I mid-major athletic conferences will speak with Trine University students and members of the public during a special virtual event on Nov. 4.
Dr. Robert Philippi, senior associate commissioner of Conference USA, will cover topics including background on the intercollegiate sports environment and the commitment it takes to work in sports, day-to-day responsibilities and advice for those who would like to work the industry, as well as broad impacts the COVID-19 pandemic has had on college sports. He also will answer questions from those in attendance.
The event, which will begin at 1 p.m., is the first of a featured speaker series that will be hosted by the Trine Center for Sports Studies each semester.
"The Trine Center for Sports Studies exists to inform discussions about the sports industry and prepare students who have a desire to work in that field," said Brandon Podgorski, director of the center. "Dr. Philippi's perspective as a leader in a pre-eminent college sports conference will be valuable to students, faculty and the community as we continue to examine sports in the United States."
Those interested in joining the event can contact Podgorski at podgorskib@trine.edu to receive the link.
Philippi has spent more than a decade at Conference USA, assuming his current role in 2013. He currently directs the programming and services associated with the compliance, academics, legislation, risk management, governance and student-athlete welfare functions of the conference office.
He has presented at the NCAA convention, N4A national meeting, NAAC convention, NCAA Regional Rules Seminars and the Coalition on Intercollegiate Athletics; served as technology consultant for athletic development companies (e.g., ARMS) and written sport management courses relating to sponsorships, ticketing, marketing and compliance.
Prior to joining C-USA, he spent five years at the University of Nevada-Las Vegas, where he was responsible for supervising the complete operation of the academic advising unit; developing programs designed to improve the retention and the graduation rates of student-athletes and directing institutional efforts in maintaining compliance with NCAA, conference and institutional policies. He also worked from 1999-2002 at the NCAA national office, serving as membership services representative.
The Trine Center for Sports Studies is a multidisciplinary teaching and experiential learning collaborative at Trine University focusing on the study of sports and the international sports industry.
Last Updated: 10/21/2020