Turnstone, Trine partnering to enhance region's speech therapy services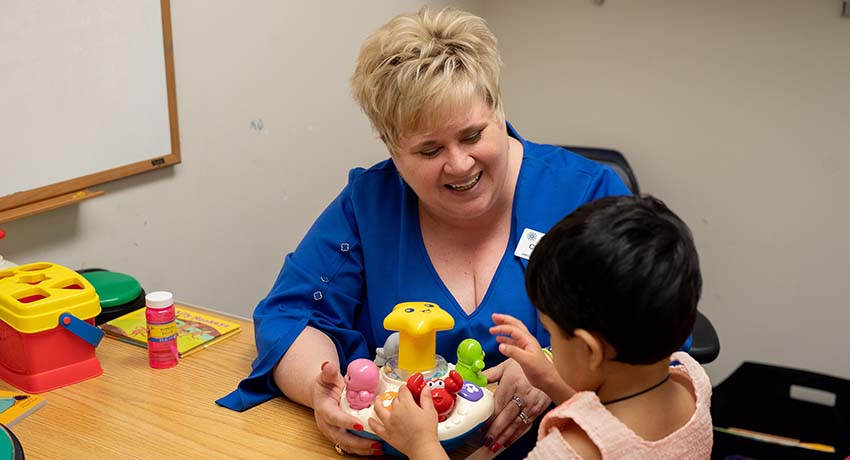 FORT WAYNE — Trine University and Turnstone Center for Children and Adults with Disabilities will partner to serve and empower people with communication impairments through a collaboration on Turnstone's campus that will feature a speech-language therapy clinic serving clients and providing Trine students in a planned new graduate degree program with a site for clinical experiences.
The clinic will be located on Turnstone's Fort Wayne campus at 3320 N. Clinton St and will support the Trine Master of Science in speech-language pathology degree that is expected to launch in the Fall of 2022, pending institutional approval from the Higher Learning Commission. Plans for the collaboration include a clinical experience for students, in addition to classrooms, offices, training, and lab space. Plans are expected to be completed by the end of July 2022.
"Having the ability to communicate one's thoughts and relate to others is vitally important to a person's quality of life," said Mike Mushett, Turnstone CEO. "Trine University's commitment to preparing more professionals and allocating additional resources to support speech therapy needs directly enhances Turnstone's mission to empower people with disabilities to achieve their highest potential."
"Practical experiences are a key part of education at Trine University, and this partnership with Turnstone will allow students in the speech-language pathology program to gain the experience critical to career success while allowing Turnstone to enhance its speech therapy services," said Earl D. Brooks II, Ph.D., Trine University president.
"This is a huge win for both organizations and for Greater Fort Wayne," said Whitney Bandemer, J.D., vice president for health sciences at Trine. "Trine will be able to help meet the need for speech-language pathologists in this region by providing graduates who are well-qualified, skilled and prepared to make an immediate, positive impact on clients and patients of all abilities upon graduation."
Chanda Lichtsinn, director of rehabilitation therapy and speech language pathologist for Turnstone, will serve as program director for Trine's speech-language pathology program. Turnstone speech language pathologists also will serve as practicum instructors with future plans of clinical faculty practicing at the speech therapy clinic and treating participating Turnstone clients.
"A person without a voice can be significantly cut off from the world, with fewer choices, social relationships and limited independence," said Lichtsinn. "Providing increased access to clinically educated speech-language pathologists in our community will support countless children and adults in their goals of living and experiencing their life to the fullest."
In addition to the robust clinical experience offered at Turnstone, Trine students will complete practicums at Fort Wayne-area hospitals, skilled nursing facilities, school-based programs and other sites.
Trine University also plans to launch a bachelor of science in communication disorders on its Angola main campus, which will provide a direct entry pathway to the Master of Science in speech language pathology degree.
Trine announced plans to launch a Master of Science in speech-language pathology program in 2018 as part of a broader strategy to expand its health sciences programs in Fort Wayne. The graduate program will join Trine's existing Doctor of Physical Therapy, Master of Physician Assistant Studies and Associate of Science in surgical technology, which are based at the university's Fort Wayne Center for Health Sciences on the Parkview Randallia campus.
Photo: Chanda Lichtsinn, Director of Rehabilitation Therapy at Turnstone, works with a pediatric client during a speech therapy session. Local therapy expertise and access to therapy professionals will be enhanced through the newly announced partnership between Trine University and Turnstone.
About Turnstone: Turnstone's mission is to empower people with disabilities to achieve their highest potential by providing one of the most comprehensive offerings of service and programs to people with disabilities and their families under one roof in the United States. Thanks to generous support and compassionate staff, Turnstone's legacy of advocacy and innovation continues to contribute to a world that accepts and values people based on their abilities. This legacy now includes the privilege of functioning as the home training facility for the U.S. Men's and Women's National Goalball Teams and the goalball resident program through a partnership with the United States Association of Blind Athletes (USABA). www.turnstone.org | Twitter: @TurnstoneCenter | Facebook: Turnstone Center of Children and Adults with Disabilities | Instagram: @TurnstoneCenter
Last Updated: 10/21/2020