Gov. Holcomb to deliver address for Trine Commencement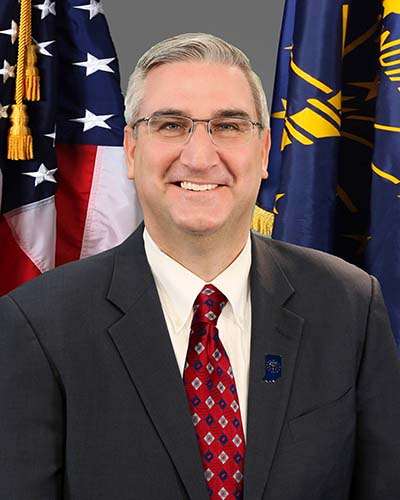 Eric Holcomb, 51st governor of the state of Indiana, will deliver the address at Trine University's Commencement on May 8.
The ceremony begins at 10 a.m. in the Keith E. Busse/Steel Dynamics Inc. Athletic and Recreation Center on Trine's main campus. Attendance will be limited to prevent the spread of COVID-19.
The Trine Broadcasting Network will offer a live stream of the event at livestream.com/trinebroadcastingnetwork.
"Over the past year, Gov. Holcomb has provided outstanding leadership to the Hoosier state in the midst of unprecedented challenges," said Earl D. Brooks II, Ph.D., Trine University president. "We look forward to the insights and advice he will share with our graduates as they prepare to positively impact their communities, the nation and the world."
Commencement will mark Holcomb's second visit to Trine's main campus as governor. In 2018, he received an honorary Doctor of Humane Letters degree from the university during the Touchstone and Homecoming Celebration Dinner, and presented Brooks the Sagamore of the Wabash at the same event.
In 2016, as lieutenant governor, he spoke as part of Trine University's Distinguished Speaker Series.
Holcomb was elected to his second term in 2020 with the most votes for governor in Indiana history. A lifelong Hoosier, Holcomb is a graduate of Pike High School in Indianapolis and Hanover College in southeastern Indiana, where he majored in U.S. history with a focus on the American Civil War and the Reconstruction Era, and served as president of the Phi Gamma Delta fraternity. He served for six years in the United States Navy as an intelligence officer.
He was a trusted advisor to Gov. Mitch Daniels and Sen. Dan Coats, worked for Congressman John Hostettler and is a former state chairman of the Indiana Republican Party. He served as the state's 51st lieutenant governor under Mike Pence and was elected governor in November 2016.
In his first legislative session as governor, he rallied bipartisan support from Indiana lawmakers to expand pre-kindergarten for qualifying Hoosier kids and unveiled Next Level Recovery, a one-stop-shop for information and resources on the state's comprehensive and community-based effort to fight the opioid crisis.
In his first months as governor, he led the way for the largest long-term infrastructure investment in Indiana's history with the fully funded 20-year, $60 billion Next Level Roads program.
He has a mission to increase Indiana's competitiveness in the global economy by "bringing the world to Indiana and taking Indiana to the world." The governor has met with officials and industry leaders in the United Kingdom, Japan, Germany, Canada, Israel, India, France, Belgium, Slovakia, Hungary, Austria, Switzerland and the Czech Republic to showcase Indiana's assets and build global economic ties.
The governor has called workforce readiness the defining issue of the decade. To meet Indiana's rapidly changing workforce needs, he unveiled the Next Level Jobs program to help connect more Hoosiers to high-demand, high-wage careers.
All this is underscored by Holcomb's commitment to delivering great government service for Hoosier taxpayers. Indiana was ranked first in the nation for government efficiency by U.S. News & World Report in 2017.
Holcomb previously served as policy chairman of the Republican Governors Association and in 2018 was named one of ten governors shaping the future of politics by The Hill.
Throughout his career in service, he has earned a reputation of being a consensus builder. He has earned honorary doctoral degrees from Trine University, Anderson University and Ivy Tech. A lifelong basketball fan, Holcomb has shot and made a basket in each of Indiana's 92 counties.
He is a collector of presidential signatures and currently has documents signed by all 45 of our nation's presidents.
He and his wife, Janet, live with their miniature schnauzer, Henry, in the Governor's Residence in Indianapolis.
Last Updated: 02/25/2021