Trine offers 30th MLK program on university's broadcasting network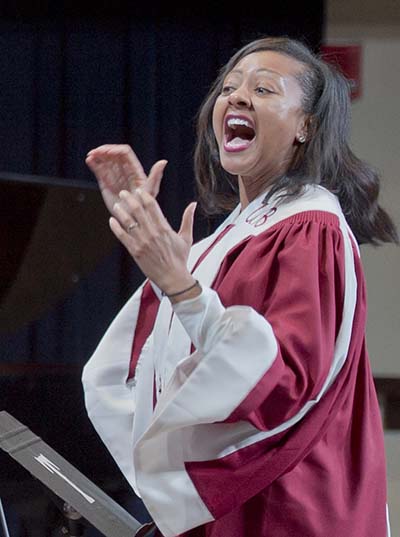 Though the COVID-19 pandemic is still preventing large gatherings from being held on the Trine University campus, organizers of the university's 30th annual Dr. Martin Luther King Jr. and Black History Month Celebration felt the event was too important to cancel.
"With the unrest and division that so much of the nation experienced this past year, we think Dr. King's message of unity and peace is needed now more than ever," said Deborah McHenry, executive director of student success and retention and advisor for Trine's Multicultural Student Organization (MSO).
This year, that message will be shared in residence halls and living rooms instead of inside the T. Furth Center for Performing Arts. The event will be pre-recorded and will premiere at 7 p.m. Feb. 26 on the Trine Broadcasting Network, located at livestream.com/trinebroadcastingnetwork.
Rev. Donovan A. Coley Sr., head of The Rescue Mission in Fort Wayne, will deliver the keynote address, entitled, "What Would Dr. King Think Today?" He previously spoke at Trine's MLK event in 2017.
"Like Dr. King, Rev. Coley is a man who shows compassion for others daily through his work," said McHenry. "We are excited to hear what he has to share with us."
The event also will include music by Niyoki Chapman, solo gospel artist and music minister at Union Baptist Church in Fort Wayne, as well as a university welcome from Trine University President Earl D. Brooks II, Ph.D., and a community welcome from Angola Mayor Richard Hickman.
Those unable to watch the live stream will be able to view the archived video on the Trine Broadcasting Network and the Trine University YouTube channel afterward.
A native of Kingston, Jamaica, Rev. Donovan Coley graduated from Fort Wayne Bible College and earned a master's degree from Trinity Evangelical Divinity School in Deerfield, Illinois. He attended Concordia Theological Seminary, Fort Wayne, Indiana for post-graduate studies.
Pastor "D," as he is affectionately called, became CEO of The Rescue Mission and President of the Rescue Mission Foundation in March 2008, after serving on its board for two years.
The Rescue Mission, founded in 1903, is a faith-based, nonprofit, 501(c)(3) organization, providing restorative care to men, women and children experiencing homelessness. The organization serves Fort Wayne, Allen County and its nine surrounding counties.
Under Coley's leadership, The Rescue Mission has been recognized by the Better Business Bureau, receiving the 2013 Business of Integrity Torch Award. In 2015, Coley received the prestigious Torch Award for personal and business integrity.
Coley is married to Grace, also a native of Jamaica, and together they are the proud parents of four children. He is an avid reader and loves to play soccer in his spare time.
Niyoki Chapman has performed as part of the sister act Milenia, which toured with Prince for five years. As a solo artist, she released two nationally distributed gospel projects, with her first single making the Top 10 on the National Billboard Gospel charts. After recording in Nashville, she returned to Fort Wayne in 2010, beginning in her current position at Union Baptist.
Photos: Top, Rev. Donovan Coley speaks at Trine University's Dr. Martin Luther King Jr. and Black History Month Celebration in 2017. The head of The Rescue Mission in Fort Wayne will return for this year's event. At right, Niyoki Chapman leads the Union Baptist Church choir at the 2018 Dr. Martin Luther King Jr. and Black History Month Celebration. This year's event will be pre-recorded and broadcast on the Trine Broadcasting Network. (File photos by Dean Orewiler)
Last Updated: 02/03/2021