Trine University enrolling Master of Science in Nursing students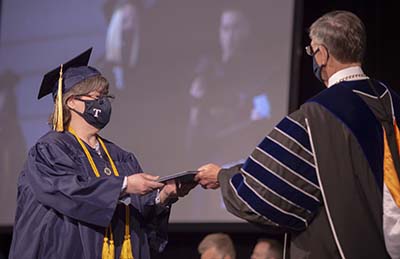 Following the successful launch of its online RN-to-BSN program last fall, Trine University is enrolling students in a new Master of Science in Nursing degree program.
Classes begin Aug. 23 and will be offered entirely online, allowing nurses to complete the degree at their own schedule and pace. The program is open to registered nurses who have completed a Bachelor of Science in nursing (BSN).
"We have been very pleased with the positive response to Trine University's BSN program and are looking forward to providing the same quality educational experience to prepare and equip nurse educators and nursing leaders," said Sharon Willey, DNP, director of nursing at Trine University.
"Our country can only reduce our current nursing shortage if we have faculty to train nurses as well as healthcare leaders who can advocate for them," she said. "We are proud and excited that Trine University is taking another step forward to meet a critical healthcare need."
The Master of Science in Nursing at Trine University will offer specializations in Nurse Educator and Nurse Leadership. The Nurse Educator specialty prepares students to teach other nurses as well as for more advanced degrees, while the Nurse Leadership specialty equips nurses for top administrative roles.
The overall degree includes seven core courses plus five courses in the chosen specialty.
Trine also will offer certificates in Nurse Educator and Nurse Leadership. Courses in the certificate programs will be master's level and can count toward the MSN degree within three years.
The degree program will help meet the critical need for advanced nursing education and leadership skills across the United States.
A survey of 872 nursing schools recently identified a national nurse faculty vacancy rate of 7.9%, or a total of 1,715 faculty vacancies. One-third of the current nursing faculty workforce in baccalaureate and graduate programs is expected to retire by 2025.
For more information or to apply to Trine's Master of Science in Nursing program, visit trine.edu/msn. For more information on nursing certificates or other Trine nursing programs, visit trine.edu/nursing.
Photo: Shannon Tew of Angola, Indiana, receives the first Bachelor of Science in Nursing (BSN) degree awarded by Trine University during the Saturday, May 8, Commencement ceremony on the university's main campus. Following the successful launch of its online RN-to-BSN program in fall 2020, Trine University is enrolling students in a new Master of Science in Nursing degree program. (Photo by Dean Orewiler)
Last Updated: 05/19/2021