Stucky returns to lead Trine advancement efforts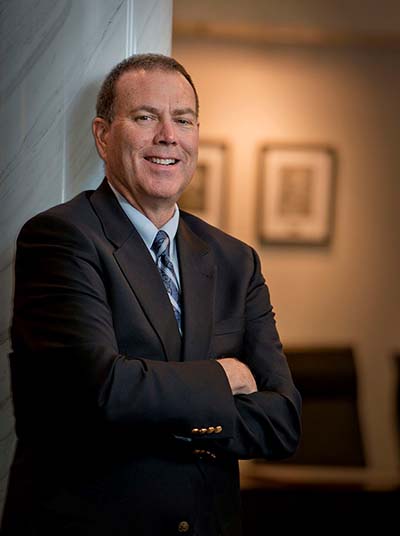 Kent D. Stucky, J.D., will serve as Trine University's vice president for university advancement, effective immediately.
An experienced fundraising executive, Stucky returns to Trine after a highly successful tenure leading Trine University's alumni and fundraising efforts from 2010 to 2017. Stucky left Trine to begin his own advancement consultancy, which has only added to his wealth of expertise and experience.
"Kent not only brings a proven track record of success, he brings a proven track record of success here at Trine," said Earl D. Brooks II, Ph.D., Trine University president. "We are thrilled to welcome his extensive knowledge of fundraising and of Trine University back to campus, and look forward to the new ideas and perspectives he will bring from his work in the interim. I am especially pleased that he will hit the ground running."
During Stucky's previous tenure as Trine's vice president for alumni and development, he led a development team that launched the Invest in Excellence capital campaign with a $75 million goal. That campaign concluded earlier this year after raising more than $137 million for student scholarships, campus facilities and the endowment.
Also under Stucky's leadership, the university saw tremendous growth in its annual fund and the Trine University Scholarship Gala.
Since 2017, he has provided professional fundraising advice to educational institutions and non-profit organizations. His work has included serving in interim leadership roles at the University of Texas at Tyler, Goshen College and Pittsburgh Theological Seminary.
"I'm excited to return to Trine University. This is a special place," he said. "Trine is blessed by many generous alumni and friends as well as excellent academic programs, and I'm honored to help guide and support its continued success."
Stucky holds a Bachelor of Arts in history from Goshen College, a Master of Arts in theological studies from Anabaptist Mennonite Biblical Seminary, and a juris doctor from Lewis & Clark Law School. Prior to joining Trine in 2010, he served in fundraising leadership roles at Goshen College and Loyola University in Chicago.
Last Updated: 10/21/2021