Trine's Humanities Symposia discusses Sojourner Truth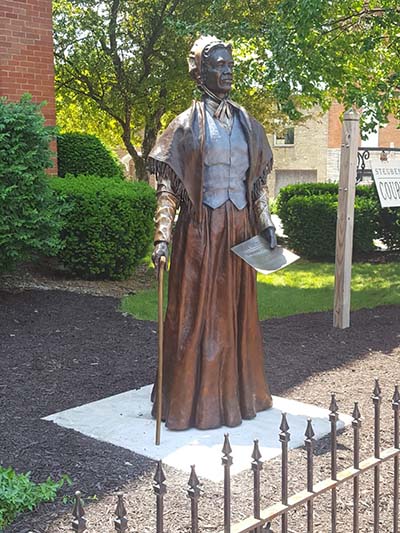 Trine University's Humanities Symposia concludes for the fall semester at 3:30 p.m. Nov. 16 with "The Truth about Sojourner."
On June 6, the Downtown Angola Coalition unveiled a life-size sculpture of Sojourner Truth in front of the Steuben County Courthouse. This presentation, beginning at 3:30 p.m. in Taylor Hall, looks at who Truth was, why she was recognized, the process of getting the sculpture installed and the impact the sculpture has had on the community.
Lou Ann Homan and Carolyn Powers will present the symposium. A writer, teacher and storyteller, Homan has been part of Indiana classrooms for more than 40 years. She has been twice awarded the prestigious Lilly Teacher Creativity Award. She also is an award-winning columnist for KPC Media Group. She is a member of Angola's Historic Preservation Commission and the Downtown Angola Coalition.
Powers retired from a career in education and has been an active community volunteer in Steuben County. She serves on the Board of Directors for the new Pleasant Lake Museum, served on the Sojourner Truth Committee with the Downtown Angola Coalition, and is passionate about bringing the story of Sojourner Truth to the community.
Trine's Humanities Symposia is free and open to the public. Talks usually last about 30 minutes and are immediately followed by time for any questions, which usually leads to a total time of one hour. Wells Theater seats 75 guests, so attendees are encouraged to arrive early if they have specific seating preferences.
For more information about the Symposia, contact Melissa Mayus, Ph.D., assistant professor in Trine's Department of Humanities and Communication, at mayusm@trine.edu.
Last Updated: 11/08/2021