Trine graduate, domestic violence survivor to share story for Take Back the Night
While other Trine University students were spending time out of class having fun with friends or working on homework, Danielle Crosby was suffering abuse at the hands of her then-boyfriend.
"I was working on my degree in criminal justice and psychology, going home and basically getting beat and going to class the next day," she recalled.
Though she had attended Take Back the Night as a freshman, she was unaware of all of the support resources available to students. She never shared her story or her circumstances with anyone on campus.
As her relationship with her abuser, who was not part of the Trine campus, developed during her junior and senior years, he secluded her more from others, even preventing her from participating in Commencement. She said the abuse seemed "normal" for her as society as a whole "never seemed to address this issue."
"People in crisis aren't always ready to share their story or even be open for help when offered," she said.
To help those in crisis, the 2012 graduate will share her story and talk about the dynamics of domestic violence during Trine University's annual Take Back the Night event on Wednesday, April 14.
Beginning at 6:30 p.m., the event will be open to Trine students, who will be socially distanced in the MTI Center, with a live video stream on the Trine Broadcasting Network for the public at https://vimeo.com/event/707186.
Today, Crosby works as a domestic violence victim legal advocate at the Domestic Harmony shelter in Hillsdale, Michigan. She also presents for Younique, raising money for that company's foundation that supports sexually abused women, and speaks about domestic violence in other settings.
"Domestic violence comes in all shapes and forms, not just physical," she said. "I want to break the stigma surrounding domestic violence and start to raise awareness. I want more people to speak out about their stories and let other people know that they're not alone."
She has authored three books. The first two, "It's Not Your Fault" and "Rising from the Ashes: Only Human," describe what Crosby and her children endured and chronicle her growth and healing. Her most recent book, "Survivor Strong," contains stories of other domestic violence "warriors."
"My books are intended to help other victims in these situations to know they are not alone," she said. "They are also intended to help advocates and those who work with domestic violence victims to understated the dynamics and be better able to relate to all of those individuals served."
All three are small so they can be hidden easily.
"I had to hide self-help books from my abuser," she said. "I made sure it was small enough to put under a mattress or under a book shelf with no visibility."
Proceeds from her books go to help survivors of abuse.
Crosby is renovating a Hillsdale store front where individuals can participate in self-defense classes, art therapy and therapeutic drumming, and sells items to benefit victims of abuse. She also posts online blogs and podcasts at daniellecrosby.com, providing messages about domestic violence to the community and offering support and resources for individuals impacted by abuse.
The Hillsdale Daily News recognized Crosby for her efforts in 2020 as that community's Person of the Year.
Part of an international effort that dates to the 1970s, Take Back the Night has been a part of Sexual Assault Awareness Month recognition on the Trine University campus since 2002. In addition to the annual event, Trine University educates its community throughout the year on topics such as consent and respect.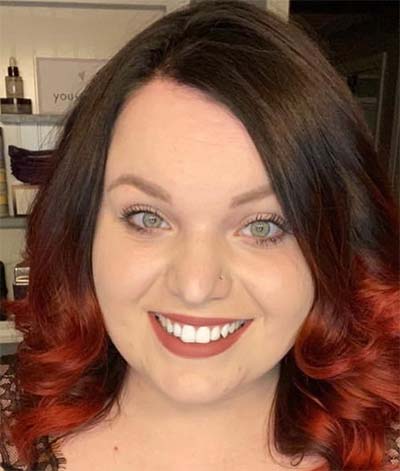 Last Updated: 03/30/2021