Thousands of books available for free at Trine event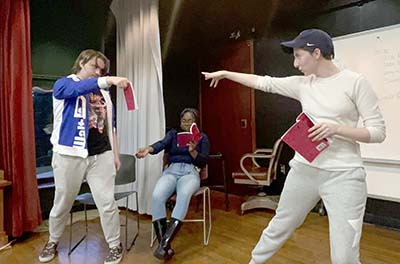 The books have been gathered and are being sorted. The fun is coming.
After collecting thousands of gently used books at sites throughout Angola over several weeks, Trine University's Humanities Institute will offer them free to the public at its annual Book Night event, 4-8 p.m. Oct. 13 in the university's T. Furth Center for Performing Arts.
Besides allowing those in attendance to take donated books for free, the event will feature the Beached Boys truck selling food in the Furth Center parking lot for those wishing to enjoy a meal with their newfound literature.
Trine University Theatre also will present open rehearsals of its fall play, "Dracula," on the main stage in Ryan Concert Hall from 6-8 p.m.
For more information, contact Jeanette Goddard, director of the Humanities Institute, at goddardj@trine.edu.
Photo: Cast members - from left, Benton Knox as Harker, Chantale Leavell as Mina and Muriel Mackie as Dracula - rehearse for Trine University Theatre's upcoming performance of Dracula. Open rehearsals for the production will be part of Trine's annual Book Night on Oct. 13. (Photo by Kelsey Flowers)
Last Updated: 09/28/2022