Great seats remain for Gatlin Brothers concert at Trine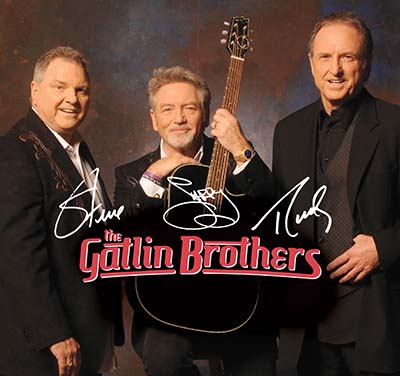 Prime seating is still available for the Homecoming concert by the legendary Gatlin Brothers on Saturday, Oct. 1, in Trine University's T. Furth Center for Performing Arts.
The performance begins at 8 p.m. in the Ryan Concert Hall.
"This is a unique opportunity to see award-winning artists up close in a beautiful, intimate venue," said Jennifer LaRose, director of campus experiences at Trine. "It's a dream for any country music fan."
Tickets, ranging from $45-$55, are available at trineutickets.universitytickets.com.
Larry, Steve & Rudy: The Gatlin Brothers are Grammy award-winners who have dazzled audiences for more than six decades. They have accrued a lifetime of noteworthy achievements in their storybook career, including a Grammy for Best Country Song ("Broken Lady"), three Academy of Country Music awards for Single of the Year ("All the Gold In California"), Album of the Year ("Straight Ahead") and Male Vocalist of the Year, along with five nominations for County Music Association Vocal Group of the Year, Single and Album. The brothers have accumulated seven #1 singles, 32 Top 40 records, more than 20 studio albums and five BMI "Million-Air" Awards.
For more information, visit trine.edu/furth.
Last Updated: 09/12/2022