Learn from the best how to master Peachtree and Quickbooks
Sound financial management and cost accounting are key to the strategic objectives and success of a business organization. The Bachelor of Science in Business Administration - Accounting Major provides you with practical, hands-on experience in the accounting field.
You also have an option to earn graduate credit toward an MBA or Master of Science in Business Analytics while working on this bachelor's degree. Through this combined degree program, you can finish both degrees in just four years and save up to $8,625!
Ranked #1 by Accounting.com as the most affordable online accounting degree program!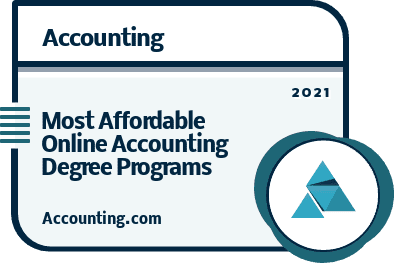 The Experience
As a student in this online accounting program, you will learn from our expert faculty who have both national and international corporate experience. You will gain valuable skills using software such as Peachtree and QuickBooks while you study modern accounting methods and practices with the goal of sitting for the CMA or CPA exam.
The Results
As a graduate of this bachelor's degree in accounting, you will use your valuable experiences from internships to secure an accounting positions. Our graduates are working for companies ranging from manufacturing organizations and CPA firms to energy companies.
Uniform Certified Public Accounting Examination Candidates
Indiana and many other states require that a first-time Uniform Certified Public Accounting (CPA) Examination candidate must have at least 150 semester hours of college education, including a baccalaureate or higher degree, with an accounting concentration or its equivalent. If you wish to meet this requirement, be sure to plan an individualized program with your academic director or assigned faculty advisor. This program will encompass an additional 42 semester hours of course work in humanities, mathematics, social sciences, business and accounting.