The Bachelor of Science with a Criminal Justice Major program teaches criminal law, psychology and the academic base needed to pursue a career in criminal justice or law school. Police, fire, EMT academy training and military experience may apply as prior learning credit to this degree program. You will learn a strategic mix of practical knowledge taught by current professionals in the field (judges, lawyers, coroners, law enforcement officers, and administrators) and theory.
You also have an option to earn graduate credit toward Master of Science with a major in Criminal Justice while working on this bachelor's degree. Through this combined degree program, you can finish both degrees in just four years and save up to $8,625!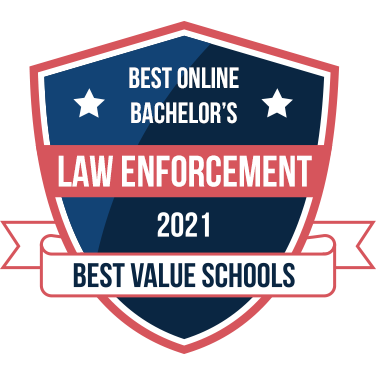 Ranked #6 by Best Value Schools with their
Best 15 Online Bachelor's in Law Enforcement in 2021.
The Experience
As a student earning this online B.S. in Criminal Justice, you will benefit from the strong psychology component of this program. You can choose from three criminal justice concentrations: criminal justice professional, psychology and Indiana law enforcement, all of which allow you to start your career path right after graduation and move up the ranks quickly.
The Results
Graduates who earn Trine University's B.S. in Criminal Justice receive an academic base to go on to a career in criminal justice or even to law school. This online degree also prepares you for more advanced educational opportunities such as a Master of Science in Criminal Justice.
A Bachelor of Science with a Criminal Justice Major degree requires 120 credit hours.
General Education - 36 credit hours
Math Elective
BIO 1003 – Plants and People
Math or Science Elective
Humanities Elective
HIS 103 and HIS 113 or HIS 203 and HIS 213
SP 203 Effective Speaking or COM 163 Interpersonal Communication
SOC 103 Principles of Sociology
PSY 113 Principles of Psychology
POLS 113 Intro to Government
ENG 143 College Composition
HUM 203 Humanities Seminar
Content Requirements - 36 credit hours
CRJ103 Introduction to Criminal Justice
CRJ 133 Criminal Justice Report Writing
CRJ 153 Juvenile Justice
CRJ 243 Introduction to Criminology
CRJ 263 Introduction to Criminal Law & Justice
CRJ 273 Criminal Procedures & Evidence
FS 343 Criminalistics and Crime Scene Investigation
POLS 333 State & Local Government
POLS 403 American Constitutional Development
PSY 323 Abnormal Psychology
CRJ 433 Criminal Justice Capstone Demonstration
CRJ 473 Law Enforcement Internship I
Additional hours – 33 hours
UE 111 Online Learning Orientation
32 Hours Free Electives
Concentrations – 15 hours
Select one of the following three concentrations.
Option A - Academy Training/Professional Training
Academy Training
Academy Training
Academy Training
Academy Training
Academy Training
Option B – Criminal Justice Professional
CRJ 363 Institutional Corrections and Law
PSY 303 Research Methods in Psychology
CRJ 423 Criminal Justice Agency Administration
CRJ 453 Topics in CJ
SOC 323 The Family
Option C – Psychology
PSY 303 Research Methods in Psychology
PSY 333 Psychology of Personality
PSY 343 Social Psychology
PSY 353 Child & Adolescent Psychology OrPSY 223 Lifespan Developmental Psychology
PSY 423 Counseling Theories & Practices
For a complete description of the above requirements, please go to the Course Catalog (Opens in a new window).
TrineOnline delivers the convenience and accessibility of an online degree program with classes starting every eight weeks. Our asynchronous classes mean there are no set class times, so you can login whenever is best for you.
Learn more
about the benefits of Trine's online degree programs.
We offer an affordable education for active duty military students working on their undergraduate degree. Please see our
Cost and Investment page
for more information.