2/19/2021, 3:45 pm -
Currently there is no electricity on campus or city wide.
We are monitoring the temperature of buildings for everyone's safety.
Whitney Commons will be open extended hours til 5:00p - 7:00p for Grab and Go meals, the Depot will be closed.
Please do not inform campus safety or campus operations to inform them that the power is out.
Power outages may last for several hours, campus academic buildings will be closed and students are asked to shelter in place at this time. We are in contact with local authorities and we will be receiving updates as they come available.
Please be safe during these next few days. Also, please be stay tuned to changing weather conditions and always heed warnings from state and local public safety officials. Again, for general cold weather safety tips, visit:
https://www.cdc.gov/disasters/winter/index.html
https://www.weather.gov/safety/cold
---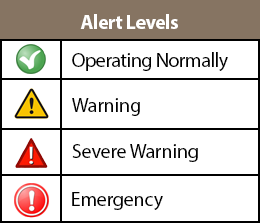 Trine uses a variety of methods to communicate during emergencies, including building alarms and an alert system that sends texts and phone messages to users. Trine participates in the RAVE emergency notification system for employees and students. To sign up, go to RAVE, choose "Register" and follow the directions.
In an emergency that requires immediate help from police, fire fighters or medical technicians, call 911.
Trine University emergency preparedness procedures
Useful Numbers