Apply HereMake a Payment & Billing Support
StudentsParentsSchool Partners
Welcome to Trine Dual Enrollment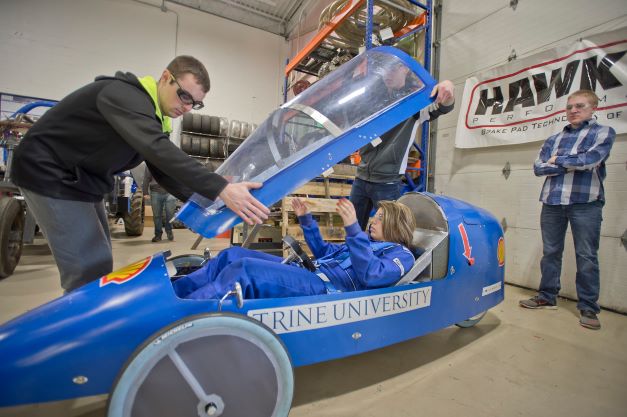 Here at Trine we are dedicated to providing high school students with premier college level learning opportunities. We strive to build relationships between Trine University and local public and private high schools as well as individual students, including home school students. All courses offered through the Office of Dual Enrollment program provide students with the opportunity to earn college credits that may also count towards their high school diploma.
As Dual Enrollment Student:
You are considered a Trine student, with all the benefits that come with it, including access to academic resources, facilities, and events.
Save time and money by taking courses while still in high school and at a deeply discounted rate.
Many credits earned through Trine DE can transfer to any public, and many private, universities in the state of Indiana.
Trine Dual Enrollment Experiences
Academic Experience:
Also known as concurrent enrollment
Offers students the opportunity to earn college credits in their own high school classroom. Students are taught by their local high school teachers that are certified to teach collegiate level courses
High school teachers collaborate with their Trine faculty liaisons throughout the course to create a collegiate level classroom experience
The cost of this option, where available, is only

$25 a credit hour
Online Experience Options
Option 1 - Asynchronous
Offered through our exceptional TrineOnline program.
Expect convenience and accessibility
Students will have access to all of the supports of the other programs & 24/7 access to academic tutors
Each course is taught asynchronously and is accessed through our online learning management system Moodle
This is a great opportunity for students who are homeschooled or if they are attending a high school that does not currently partner with Trine
This option costs

$50 per credit hour
The newest addition to Trine Dual Enrollment is the blended experience
Designed to allow a high school class to take the course together.
Students are enrolled in an online course with their fellow classmates, the local high school teacher will be supplementing student learning.
This option is for larger groups of 20 or more the cost for this online option drops to

$33 a credit hour
Campus Experience:
Students attend courses on-campus just like any other student on campus
They also have direct access to our state-of-the-art library facilities, nicknamed The Link, as well as other resources located here on campus
The cost of for this option is

$95 a credit hour