High-quality education at a price you can afford
Our FAFSA code is:

001839
File your FAFSA online: https://studentaid.gov/h/apply-for-aid/fafsa
Trine University provides a high-quality education at a price you can afford by keeping tuition low and offering great financial-aid packages, awarding 99 percent of our students with more than $78 million in financial aid.
You want the best value—high-quality education at a price you can afford. Trine University works hard to excel at both. Our hands-on learning and personal attention from dedicated professors provide the professional preparation you need to launch a successful career.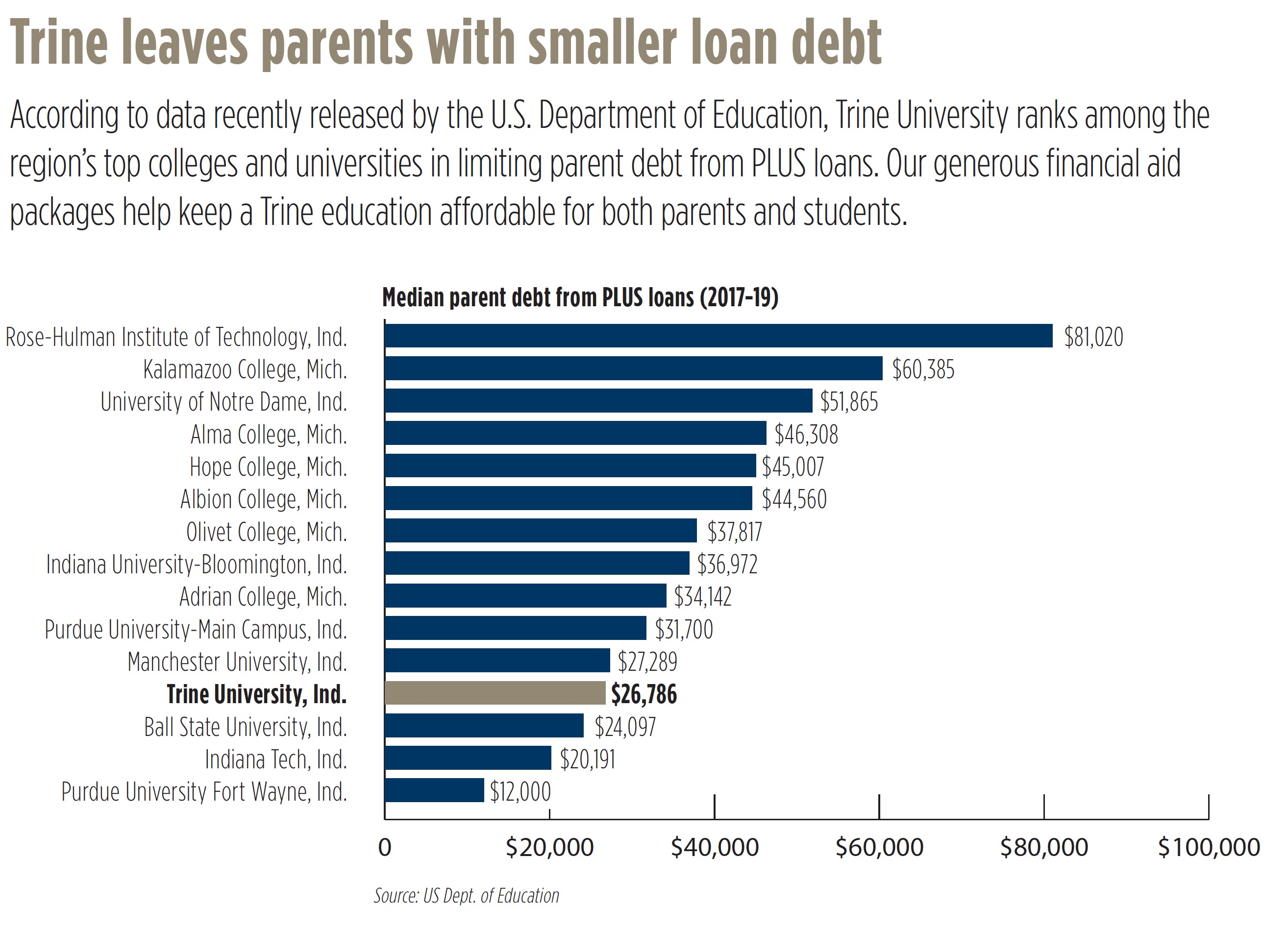 Where can we direct you:
myTrineFAOpens in new window | Make a depositOpens in new window | Net Price Calculator| Consumer Info | Forms to download | Info for Veterans | Book Store
Value
Trine graduates are sought by business, industry and government. Employers recognize the high quality of a Trine education.
99.3% of the Class of 2021 was employed or in graduate school within six months of graduation.
Our graduates' starting salaries exceed the national average in every category.
25,000 alumni are succeeding at places like GE Aviation, Honda, Cummins, Rockwell, BAE Systems, Chesapeake Energy, and Caterpillar, among many others.
Our students accepted into graduate programs at institutions such as Stanford, Yale, Michigan, Notre Dame, Virginia Tech, the Air Force Institute of Technology, and more.
Trine professors combine exceptional teaching and professional work experience in their fields to give students a strong intellectual foundation and work-ready skills.
Financial Aid questions?
Main Campus
260-665-4158
800-347-4878
260-665-4511 fax
finaid@trine.edu
TrineOnline and College of Health Professionals
260-665-4158
800-347-4878
260-665-4511 fax
onlinefinaid@trine.edu
*Based on 2021 Trine University Graduating Class Knowledge Rate of 89.9%, 402 of 447 responding. Compared to 2020 Graduation Class National Knowledge Rate of 66% from 549,972 total recorded.