Trine criminal justice students win 16 awards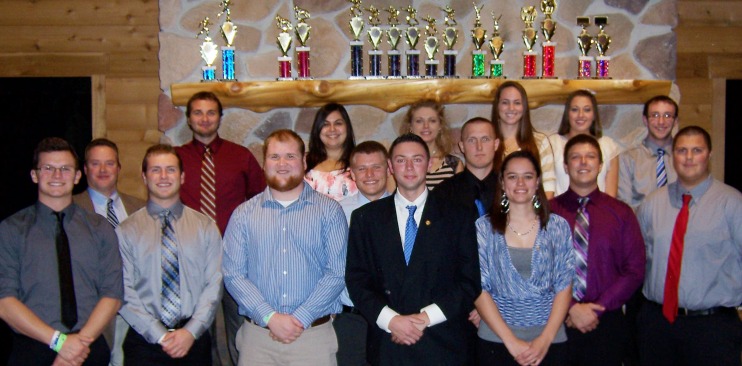 Trine University's American Criminal Justice Association team won 16 awards during the 2014 regional conference in Baxter, Minn., where it competed against eight Midwest schools.
The big haul of awards has become typical for Trine's team that claimed five team awards and 11 individual awards at the conference from Oct. 23-26.
The students and faculty member Craig Laker, associate professor of criminal justice, competed in handgun marksmanship. In handgun Lower Division, first place went to Trine's three-member team of sophomores Dustin Tucker, of Lake Ann, Mich.; Dylan Risser, Goshen; and Richard Hocker, Angola. The Upper Division team of John Kidd, a Fishers senior; John Daniel, a Fort Wayne junior; and Brandon Wilson, a Delphi junior, took second place. In Professional Division, Laker, MiKayla Marcinek, a Lowell sophomore, and Kayla Keith, a Griffith junior, won second place.
Among three-member teams in crime scene investigation, the Upper Division third place went to Trine's team of seniors Andrew O'Connor, of Huntertown; Marc Edwards, Grovertown; and Brittney Hampton, Hamlet. In the Professional Division, the team of Laker, Marcinek and Keith took first place.
Trine students fared well on ACJA written exams, too. In all divisions, the students and faculty won several awards. The written exams covered the criminal justice areas of criminal law, juvenile justice, police management, corrections and ACJA Lambda Alpha Epsilon knowledge.
In physical agility competition, Tucker won first place and Risser third place for men younger than 25.
Other students who attended were Brenden Haile, an Indianapolis junior; Stacy Herook, a Haverhill, Mass., sophomore; Josh Howe, a LaGrange senior; and Katelyn Sager, a Kell, Ill., senior.
"Our Trine University students competed against 100 other college students from throughout the Midwest," Laker said. "I am truly proud of their accomplishments and teamwork. This year's competition was one of the most challenging in the 15 years we have been involved in ACJA. We believe applying their Trine University education to real-world situations is critical for their future career plans."
The conference aims to improve criminal justice through educational activities, promotes professionalism in law enforcement and awareness of criminal justice issues, encourages the expansion of criminal justice education and training, provides a voice for professionals and students of criminal justice and promotes high ethical standards in conduct, training and higher education in the field.
The 2015 National ACJA conference is scheduled for March 22-27 in Nashville, Tenn., and several Trine students plan to attend and compete.