Trine dedicates new T. Furth Center for Performing Arts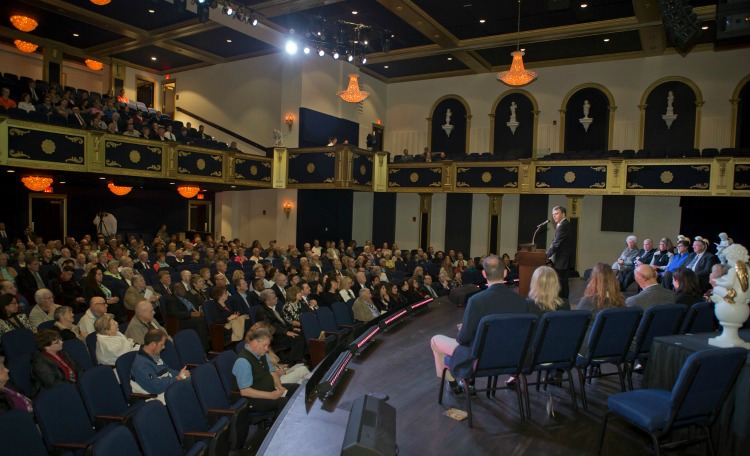 ANGOLA, Ind. – The doors to Trine University's new T. Furth Center for Performing Arts were opened late this morning, giving hundreds of visitors and distinguished guests the first opportunity to see the $7.8 million facility.
Trine president Earl D. Brooks II, Ph.D., welcomed everyone to the Ryan Concert Hall for the dedication of the building. "What do you think so far," Brooks asked the audience that quickly replied with applause.
He joked that crews have been working feverishly to finish the building and that he hoped people didn't lean on walls because the paint might still be wet.
The president thanked and recognized the donors who made it possible to have the new facility and they were each presented with a cherub statue like those in the center. Appreciation was extended to Ralph and Sheri Trine; Tomas Furth, for whom the building is named, and his wife, Ema; Sig and Cliff Ryan; Judy Morrill; Ian and Mimi Rolland; and Rick L. and Vicki L. James. The Ryan Concert Hall is named in honor of the Ryans while the Concert Balcony and Presidential Suite are named in honor of Mrs. Morrill.
Thanks also went to the family of the late Carl Strock, for whom the rehearsal hall is named.
The dedication opened with a video that included remarks from Angola mayor Richard M. Hickman, Trine music chair Mark Kays, sophomore Nic Hostetler and professor emeritus Tom Tierney, Ph.D.
Brooks also announced a few upcoming events at the T. Furth Center, including a June 20 open house for the community, a July 24 fundraiser for a local soldier, an Oct. 4 performance with Charlie Daniels and two dates including a holiday pops concert with the Fort Wayne Philharmonic. He encouraged everyone to watch Trine's calendar, www.trine.edu, for details.
"I hope this is the first of new opportunities to be together to celebrate the arts and humanities," Brooks said in closing.
Crystal chandeliers illuminate the Ryan Concert Hall that's grounded in navy blue and dominantly accented with gold. Marble statues and cherubs are prominently displayed throughout.
The new covered main entrance near Darling and Gilmore streets brings visitors into the Rolland Reception Lobby that features a marble fountain with goldfish. The lobby is decorated with chairs upholstered in blue that are placed near tables with plenty of details, some with cherubs in the design. Mirrors with gold frames and art dot the walls in the reception area.