Groundbreaking celebrates building of Reiners Residence Hall at Trine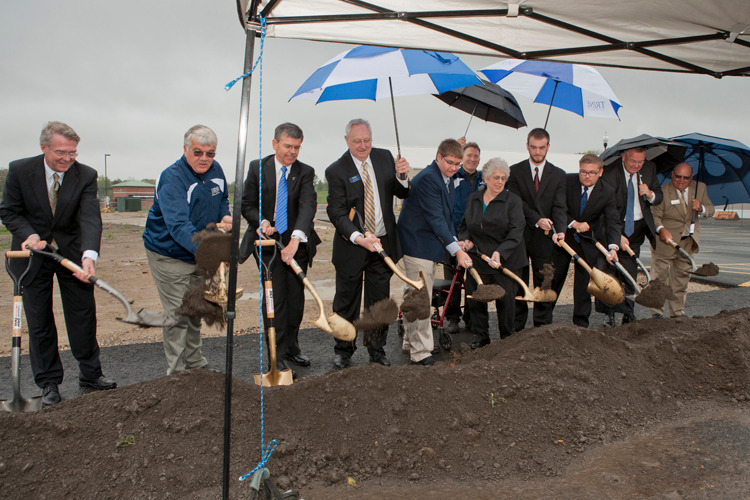 A ceremony late this morning (Friday, Oct. 4) celebrated the groundbreaking for the Larry and Judy Reiners Residence Hall on the campus of Trine University.
"It's a special time to have you on our campus," Earl D. Brooks II, Ph.D., Trine president, told those at the ceremony. Enrollment growth brings the need for a new residence hall and "we are here to recognize those who have helped that happen."
Reiners Residence Hall, expected to be completed in fall 2015, is named for Larry Reiners, a Trine University trustee and alumnus, and his wife, Judy. The 170-bed, apartment-style residence hall will feature two-bedroom units with private baths, air conditioning and a common living space and kitchen.
The Reiners Department of Civil and Environmental Engineering is also named in their honor.
Cutline: From left: Michael Bock, senior vice president, Trine; Jim Ingledue, owner, Jim Ingledue Construction, Inc. (JICI); Earl D. Brooks II, Ph.D., president, Trine; Larry Reiners, Trine trustee and 1965 alumnus; Austin Gurley, freshman civil engineering major from Collinsville, Okla., and grandson of Larry and Judy Reiners; Judy Reiners, wife of Larry Reiners; Ken Wilson, JICI, holding umbrella for Mrs. Reiners; Hayden Zimmer, senior civil engineering major from Lincoln, Ill., and cousin of Austin Gurley; Jonathan Tinkey, president of Trine Student Senate, Akron, Ind., sophomore majoring in criminal justice; Rick L. James, chair, Trine board of trustees and 1977 alum; and Richard Oeder, Trine trustee and 1965 alum. Photo by Dean Orewiler, Trine photographer.