Fifth Third Bank honors entrepreneurs at Trine University's Innovation Challenge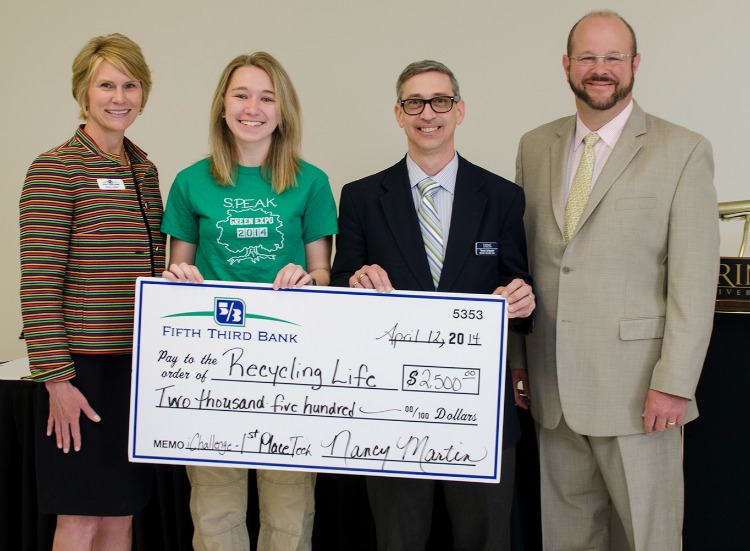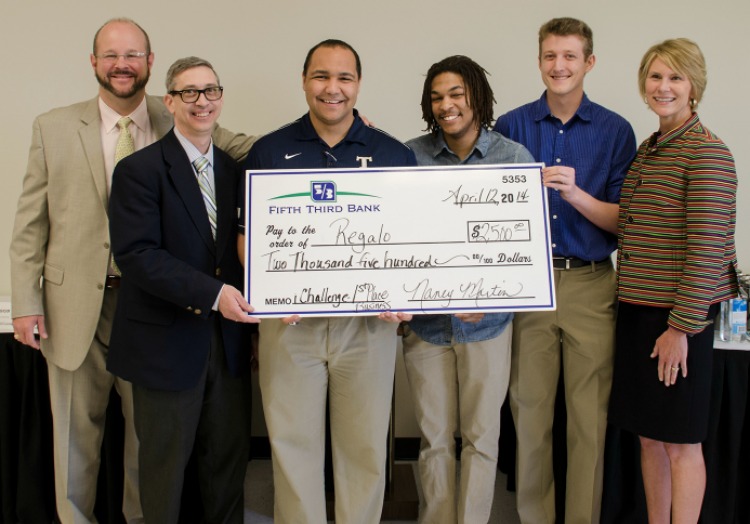 An application to track the environmental footprint of personal recycling efforts and an online gift buying service for busy professionals took top honors Saturday at the inaugural Trine University Innovation Challenge presented by Fifth Third Bank Indiana.
The top winners in the business and technology categories are entrepreneurs and students at Trine University. They were among 25 entries in the inaugural Innovation Challenge, which sought new business and technological concepts from students and the surrounding community. Fifth Third Bank Indiana granted $100,000 for seed awards and Trine scholarships for the winners as part of the Bank's support of Trine and its Innovation One, an incubator for creativity, invention and design.
Gifts Utopia (students Joe Adams, Ben Clark, James Green, Dani Pearson and Ben Witter) earned first place in the business category for a web-based gift selection program that would not only remind the user when anniversaries or birthdays approach but also suggest specific gifts based on pre-input profile information. The original concept was titled Regalo, the Spanish word for gift. Shown in the top photograph are from left, Scott Ferguson, Tom DeAgostino, student entrepreneurs Ben Clark, James Green and Ben Witter, and Nancy Martin.
Student Dakota Bagwell and his Recycling Life concept earned a first-place award in the technology category. The online app keeps detailed records of personal recycling and translates that information into how each recycled item impacts the global environment. Shown in the second photograph are Nancy Martin, Allison Everetts accepting on behalf of Dakota Bagwell, Tom DeAgostino and Scott Fergusson.
Martin, senior vice president of Fifth Third Bank (Central and Northeast Indiana), and Fergusson, dean of Trine's Ketner School of Business, announced the winners.
"It's so inspiring to experience the incredible energy in the room and among all the presenters today," said Nancy Martin, senior vice president at Fifth Third. "For a first-year event, we are just thrilled with the caliber of entries in the Challenge and look forward to growing this competition and our partnership with Trine University in the years to come."
Tom DeAgostino, executive director of Trine's Innovation One, agreed the inaugural event was a success because it supported new and interesting business ideas.
"This is a competition, but it's not so much about winning. This is about supporting the local economy and our community," DeAgostino said.
The entrants, which ranged from smart pump technology to a 3-D printing and molding process, were judged across three different phases, each allowing a panel of judges to question the teams on their concepts and research put in to their ideas. The competition culminated with the April 12 awards ceremony, where nearly $10,000 in initial prize money was distributed.
"This was a great experience to learn more about how to succeed with a small business and what resources it takes to get off the ground," said Neil Miller, a Trine student who entered his 3-D molding concept in the competition. "It's clear there are a lot of entrepreneurs out there, and it's nice to see what kind of help and guidance is available in the community."
Learn more about Innovation One and get information about the 2015 competition.
About Fifth Third Bank
Fifth Third Bancorp is a diversified financial services company headquartered in Cincinnati, Ohio. The Company has $130 billion in assets and operates 17 affiliates with 1,326 full-service Banking Centers, including 104 Bank Mart® locations open seven days a week, inside select grocery stores and 2,586 ATMs in Ohio, Kentucky, Indiana, Michigan, Illinois, Florida, Tennessee, West Virginia, Pennsylvania, Missouri, Georgia and North Carolina. Fifth Third operates four main businesses: Commercial Banking, Branch Banking, Consumer Lending and Investment Advisors. Fifth Third also has a 25 percent interest in Vantiv Holding, LLC. Fifth Third is among the largest money managers in the Midwest and, as of December 31, 2013, had $302 billion in assets under care, of which it managed $27 billion for individuals, corporations and not-for-profit organizations. Investor information and press releases can be viewed at www.53.com. Fifth Third's common stock is traded on the NASDAQ® Select Market under the symbol "FITB." Fifth Third Bank was established in 1858. Member FDIC.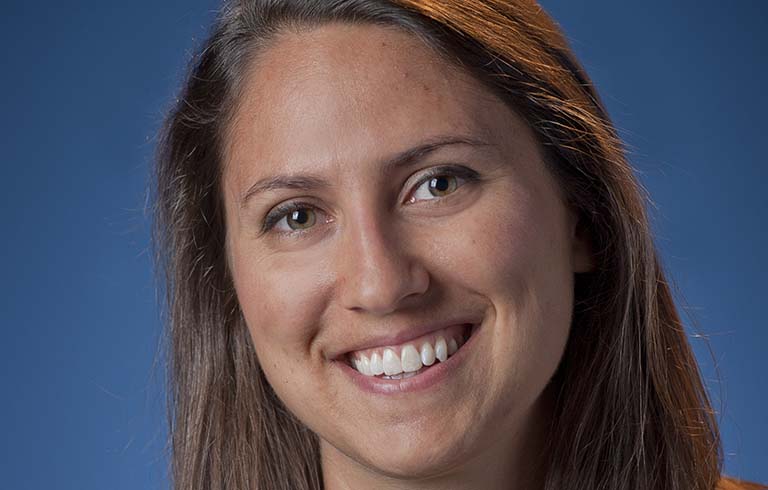 June 6, 2023
Trine University has named Lexie Staten as dean of its Rinker-Ross School of Health Sciences.
1/3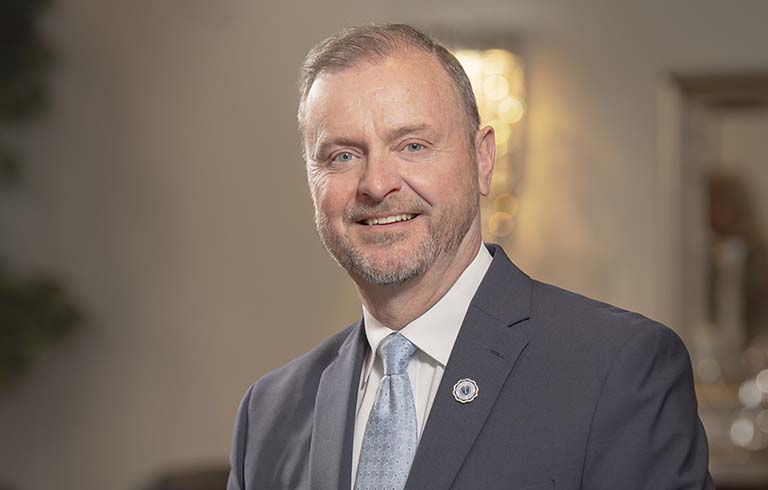 June 1, 2023
Trine University welcomes John Shannon, Ph.D., to his new role as the 17th president of the university. Dr. Shannon's presidency begins today, June 1.
2/3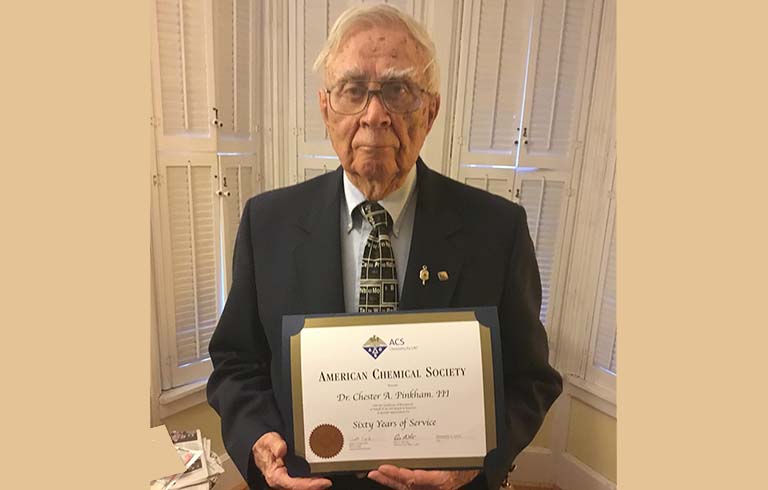 May 31, 2023
Chet Pinkham, Ph.D., professor emeritus, was honored by the Northeastern Indiana section of the American Chemical Society at its annual awards ceremony and banquet on May 24.
3/3