Trine sophomore honored for 'Realizing the Dream'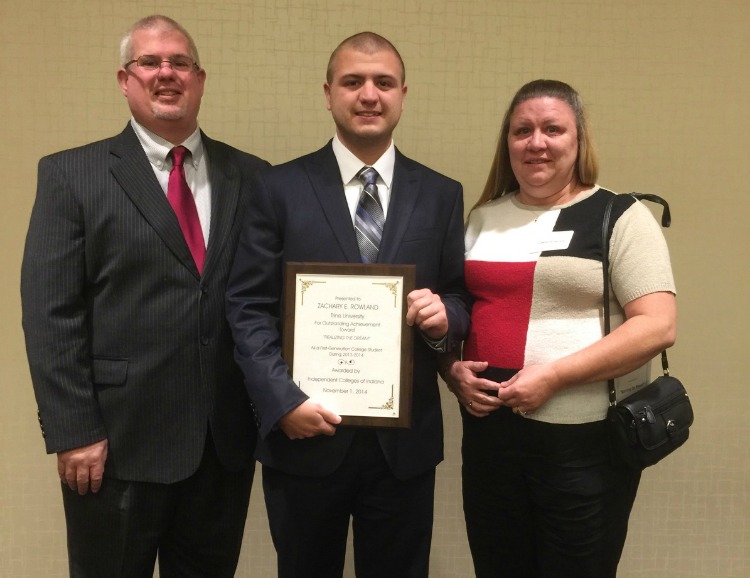 A Trine University sophomore from Shelbyville, Ind., is the "Realizing the Dream" scholarship recipient for 2014.
Zachary E. Rowland, son of Tom and Tammy Rowland of Shelbyville, is majoring in mechanical engineering at Trine. He earned a 3.9 grade point average during his first year at Trine and hopes to one day work with different types of machines and robots.
Also a Trustee Scholarship recipient, Rowland was chosen for the Realizing the Dream award by Trine's Academic Council. He was selected from a field of more than 100 first-generation students from the 2013 freshman class.
The Trustee Scholarship is a competitive award offered annually to 40 incoming freshman and consists of $66,000 during a student's four years at Trine. Rowland qualified to compete at Trine's 2013 Scholarship Day Program based on his academic record. At the scholarship program, his performance in an essay writing competition and faculty interviews, along with his prior academics, earned him the Trustee Scholarship.
Rowland is currently active on Trine's campus as a member of Trine's Honors Association, the National Society of Leadership and Success and Students Promoting Environmental Awareness & Knowledge. He also participates in intramural athletics.
According to Rowland, the best part about Trine is the learning environment.
"The professors really want the students to succeed. They are willing to answer questions whenever you need help," Rowland said.
Rowland is no stranger to giving help when it is needed. According to his father, Zach is a hard-working student who would arrive at his high school early in the mornings to help his math teacher answer other students' questions.
Rowland's father, Tom Rowland, said he thinks this work ethic and willingness to "go the extra step for other students" will help Zachary succeed.
"We're very excited and very proud," he said. "Zach does hard work in school and it's nice to know that his hard work was showing up and that [those at Trine] were noticing it."
Realizing the Dream is a program coordinated by the Independent Colleges of Indiana that acknowledges first-generation college sophomores at Indiana private colleges for outstanding achievement in academics and campus involvement during their freshman year. The program has been funded by the Lilly Endowment, Inc., since 1989.
Each selected student from a participating Indiana private college receives a $2,500 scholarship and is asked to name the teacher who most influenced their decision to attend college. The nominated teacher receives a $1,000 Professional Development Grant. Rowland named Al Parsons, a technology teacher at Shelbyville High School, as the instructor who most encouraged and mentored him into pursuing an engineering degree.
Rowland and fellow award recipients were honored Nov. 1 during a banquet at the Sheraton Indianapolis at Keystone Crossing. This event featured keynote speaker Santiago Jaramillo, CEO and founder of BlueBridge Digital, and included a reception and awards dinner.
Photo: Zach Rowland with his parents Tom and Tammy Rowland of Shelbyville, Ind.