Trine trustee/alum Rick L. James shares 'Keys to Success"
Finding success in life is not too difficult, but it does require focus on a couple of points. That's what Rick L. James, cast metals expert and chair of the Trine University Board of Trustees, told an audience of nearly 300 on Tuesday evening.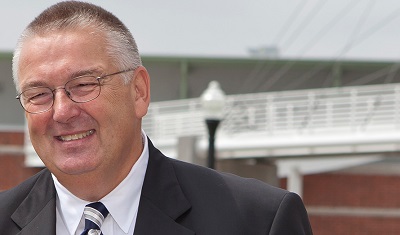 James, who also graduated from Tri-State, now Trine, was Trine's distinguished speaker for spring. A founding partner of Metal Technologies, Inc., James shared his life story and foundations for business success during his "Keys to Success" speech delivered in Fabiani Theatre. The theatre is located in the building that bears his name, the Rick L. and Vick L. James University Center.
James began working at Auburn Foundry after he graduated from high school and remained with the company for years.
"When I was 18 years old, I didn't have a clue about what I wanted to do except two things: I wanted to get an education and I knew that I would have to pay for it because my parents, God bless them, could not afford to send my brother, my sister, me to school," James said. "They wanted us to get an education but we had to earn it ourselves. So, when I graduated from high school, it was a Sunday in May. That night I went to work in Auburn Foundry as a way to pay for my education. I made the big wage of $1.85 an hour, but I could work all the overtime I wanted."
"At that time, I didn't have any idea that I'd be a foundryman in a foundry business but as I look back at it, it was an opportunity."
The foundry's general manager and its owner noticed James was intent on trying to get to the next job in the foundry so he could earn more money and they offered him a deal: "If you'll come back and work for us for a few years, we'll help you with your education."
"They didn't give me the money, the loaned me the money. You know, when you don't have a lot of stuff behind you, that's pretty attractive," James said.
He learned all aspects of foundry operation and in 1989 he and a partner founded Metal Technologies, Inc., that today has sales in excess of $500 million and more than 1,100 employees.
"I couldn't have had any of that without having the knowledge I gained at the foundry. I couldn't have done any of that without the education I received at Tri-State, now Trine University. Those are invaluable and it gave me the ability to understand the business, understand customers, competition, suppliers, employees; all of the things you need to be successful. And, gave me credibility, because if you want to go out and start a business, you better have some credibility. You better have people who want to invest in you; believe you know what you are doing. That experience gave me that and without that experience there's no way MTI could have got started. So I view that as a key to success."
Other keys to success are:
Building strong relationships with the people with whom you work, whether it be employees, suppliers or customers.
Be committed. "When you go into it and you believe you are prepared and you believe you know the business, I didn't really feel like we were taking on a huge risk
Values. "The foundation of any business or relationship is based on your values."
Faith. "I think that gives you a foundation that no matter what happens – there's good times or bad times – you have the strength to move forward.
Integrity. "If you don't do what you say you're going to do, you're in trouble. ... Not every decision is going to be right but the worst thing you can do is not try anything because then you do nothing."
Work ethic. "You're not going to be successful just because you're smart, just because you think you're smart ... but if you have an idea, you're smart and you work your butt off, you prepare yourself, and you do what it takes, chances are you're going to be successful."
Give back. "You can't just be a taker, you have to give back and that's not just monetarily. ... We have been well beyond our wildest dreams in what we have been able to achieve and we believe that we need to find ways to share that success."
James and his wife are known for quietly sharing their time, talent and resources to help improve lives and their community – all without fanfare or headlines. Education and young people are favored areas for the Jameses and they have been generous with Trine University. A couple of years ago, they agreed to have their names on the Rick L. and Vicki L. James University Center as a way to encourage others to give.
"Rick leads by example and supports projects and causes before he even considers asking others to lend their backing," Earl D. Brooks II, Ph.D., Trine president, said of James when he introduced the speaker.
James and his wife are interested in paying it forward and that's just what they have been doing. Trine University, and likely the other organizations they have touched, is grateful for their support.