Trine alum serves in Governor's Fellowship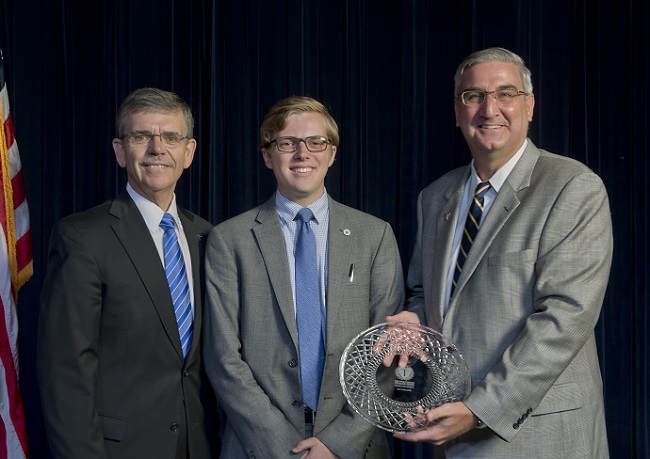 When Indiana Lt. Gov. Eric Holcomb – later elected governor – visited Trine University for its Distinguished Speaker Series on Sept. 13, a Trine University alumnus was part of his entourage.
Benjamin Badger, who graduated in December 2015 with a degree in management and finance, has served in the Governor's Fellowship Program in the governor's office since May.
"I have been loving every minute of it," he said. "It has been an exciting and educational experience."
The Governor's Fellowship offers full-time paid positions to men and women from across Indiana who have been out of college for less than a year. Fellows serve in various state agencies on a rotating basis over the course of a year. They participate in the daily activities of state government, complete special projects and experience firsthand how policies are made.
Badger learned of the program during an internship he conducted in Gov. Mike Pence's office beginning in January 2016.
"There was a Governor's Fellow that I became friends with, who is now one of my law school classmates," he said. "There are a couple of other past Governor's Fellows in the Governor's office and many others who are currently throughout the Statehouse and the state of Indiana."
Badger works in the Governor's External Operations department, which plans and executes the Governor's official events throughout the state of Indiana, including bill signings, job announcements and community speaking engagements.
"Once an event is on Gov. Pence's schedule, it comes to our department to make sure the event runs smoothly from start to finish," he said. "Every day is different and it constantly changes based on the governor's always moving and busy calendar."
He said there were many emotions in the office when Pence was chosen as running mate for Republican presidential candidate Donald Trump in July.
"We knew that Gov. Pence was the right man for the job," Badger said. "Knowing that Gov. Pence had the opportunity to take this leadership to Washington was exciting and promising for our country's future."
He said he has enjoyed developing communication skills and making connections through the fellowship, but the most important part has been being a part of a team that has been able to help people.
"When in public service, an essential part of the job is helping others when they have a problem," he said. "Everyone in the office has a passion to help others and that is something that this office has done well over the last four years."
"One of my most vivid memories was when a woman was having issues with the child support that she was supposed to be receiving. She was struggling to get the help that she needed," he said. "I took her call and was able to take this issue to the appropriate source. I got them in contact with one another and the issue was able to be resolved. Helping her get the support that she needed was extremely rewarding."
In addition to his work for the governor's office, Badger is taking evening law school courses at Indiana University Robert H. McKinney School of Law. He will continue working and attending law school once the fellowship ends.
"Balancing law school with work has been an interesting task. It requires great time management," he said. "There have been a few late nights and early mornings and many, many more to come I am sure!"