'Boo Cancer!' scares up money for Ligonier boy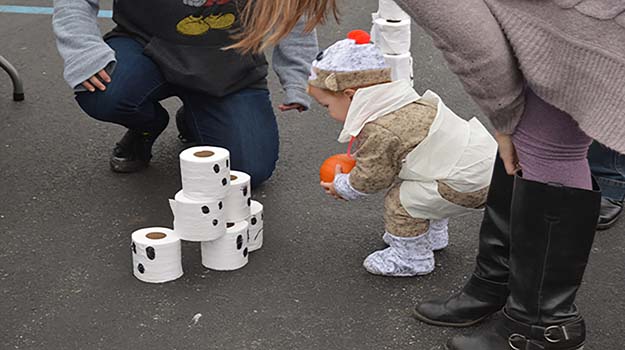 By Annabelle Elder
communication '17
On a chilly Sunday afternoon, the Trine University student community came together with one goal in mind: to spook cancer and raise money for a little boy who was being affected by it.
Gamma Phi Epsilon sorority hosted the second annual "Boo Cancer!" event on Oct. 30 in the parking lot next to the Fred Zollner Athletic Stadium on campus.
The event featured trick-or-treating, snacks and Halloween-themed activities. Students from various organizations could be seen wearing "Mighty Malachi" shirts as they passed out candy to the children in attendance.
"Boo Cancer!" started at Trine University last year, when Alexis Skeens, a senior from Fremont, Indiana, brought an idea to Gamma Phi Epsilon's philanthropy chair.
"Last year, my eighth-grade middle school language teacher's great-nephew, Canton, was diagnosed with neuroblastoma. Canton's birthday was in November and we wanted to do something before that date," said Skeens, who is serving as the sorority's philanthropy chair this year.
"We decided to do something right around Halloween. The event was originally going to be a 5K and there were to be stops along the way where kids could participate in activities. Then, we decided to make it super kid-friendly and just do trick-or-treating. A sister of Gamma Phi came up with the name of the event, calling it 'Boo Cancer!' Basically it was our Halloween way of saying we don't like cancer."
The event last year helped fundraise for the family of Canton Gillette, who, unfortunately, passed away in June 2016 at age 2. Gamma Phi Epsilon wished to honor Canton by continuing to hold "Boo Cancer!" for families who had a child that suffered from the disease.
This year, the fundraiser centered on helping Malachi Carrizales, a toddler from Ligonier, Indiana, who suffers from leukemia. Gamma Phi Epsilon spent its fall semester raising money for the Carrizales family to assist with medical bills and other expenses. Malachi has been in and out of Riley Hospital for Children in Indianapolis, leaving the family in a tight financial situation.
The sorority also hosted smaller fundraising events for Malachi, including games in the University Center, selling T-shirts with #MightyMalachi emblazoned across them, and even holding an online silent auction.
The planning process for "Boo Cancer!" was very extensive. Skeens noted that without the help of her philanthropy committee, Gamma Phi Gold, it would not have been as successful.
She spent a great deal of her fall semester ensuring that the "Boo Cancer!" event went off without any issues.
"From booking the location, to organizing the setup of the event, it was a very long process," she said. "I had to work closely with Gamma Phi Gold to ensure that all details were ironed out and I also made sure to communicate regularly with the Carrizales family, so that they knew our plans for fundraising and we were able to get updates on Malachi's health."
Skeens praised the organizations that showed up to conduct activities with the kids. Student organizations in attendance were Sigma Phi Epsilon fraternity, Tau Kappa Epsilon fraternity, Kappa Sigma fraternity, Alpha Sigma Phi fraternity, the Department of Physical Therapy program, the High Voltage Dance Team, Trine Cheer, American Marketing Association, TUFFS, Trine women's lacrosse, the Biomedical Engineering Society, Kappa Sigma Alpha sorority, Phi Sigma sorority and Theta Phi Alpha sorority.
The event was successful, with families coming with small children to trick or treat, play games at the tables and enjoy snacks and hot cocoa, despite the chilly weather. The day included lots of laughter, children playing and copious amounts of candy.
Gamma Phi Epsilon's overall fundraising efforts have helped raise more than $5,000 for the Carrizales family. "Boo Cancer!" helped raised at least $500 of that total and Skeens said the sorority is grateful for those in the community who came to support a great cause. She hopes Gamma Phi Epsilon will continue to do "Boo Cancer!" every year and help a family in need.