Trine student hosts secret fundraiser for former teacher
By Caele Pemberton
Kokomo Tribune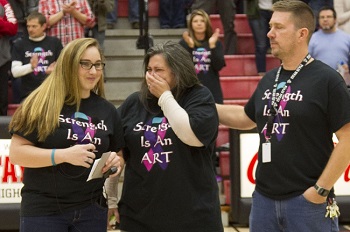 KOKOMO - When Brie Boehler saw that her former art teacher was diagnosed with thyroid cancer for the third time, she knew she had to do something. So she started a secret fundraiser.
MaryAnne Dishon, an art teacher at Taylor High School in Kokomo, will undergo radiation for the third time this winter, and Boehler wanted to find a way to show support and help ease some of Dishon's burden.
Boehler designed a T-shirt, started a secret Facebook page and got the whole school in on the fundraiser. At Taylor High School's basketball game on Nov. 26, fans in the bleachers, the cheer team, the Taylor basketball team and the Lewis Cass basketball team all wore the shirts in support of Dishon, who was unaware of the project until she stepped onto the court before the game.
The shirts read "Strength is an Art" on the front and "#TeamDishon" on the back.
Boehler came up with the idea weeks ago, but she knew she couldn't do it alone. She is a freshman at Trine University in Angola, more than two hours away from Kokomo, so she enlisted the help of her mother, Tammy Shane.
"After Brie asked me, I spent two solid weeks praying and asking God to bless this," Shane said. "The one thing you don't want to do is do something like this and have it not go over well."
Shane said she and Boehler at first hoped to sell 100 shirts, but within the first two days they'd sold 200. They ended up selling more than 400 shirts before the game and raising more than $1,100 for Dishon.
It was difficult for Boehler to spread the word without Dishon catching on, and she even had a nightmare that Dishon found out and the shirts didn't print in time, but everything ran smoothly Saturday night, she said.
On Nov. 26, she asked Dishon if she could come over, and Boehler gave her one of the shirts, saying it was an early Christmas present. She convinced Dishon to attend the basketball game, where her family waited in anticipation.
Dishon's family, including her husband, mother, brother and children, attended the game. They all knew about the fundraiser ahead of time, but were able to keep the secret from her.
Her mother, Angie Budenz, said she loved Boehler's idea to support Dishon.
"To my daughter, (Taylor) is like a second family, a second home," Budenz said. "This school is known for its generosity and caring."
Dishon echoed her mother, saying that in the 25 years she been with the Taylor School Corporation, she's gained a new family, and the support at the basketball game strengthened that bond.
"This place is like family," she said. "The kids are more than students."
Dishon and her family are no strangers to cancer. In 2014, the family lost Dishon's sister, Anne Marie Bailey, to leukemia. Bailey worked at Tri-Central High School, and Budenz said the Tri-Central community showed her daughter the same love Taylor showed Dishon Saturday.
"Both are smaller schools that know how to love big," Budenz said.
Though her husband, Steve Dishon, was in on the secret, he said he was overwhelmed by the support.
"I was just blown away," Steve Dishon said.
He was impressed with the level of participation from the students and faculty at Taylor, but also from the Lewis Cass team.
"It's not just wearing the shirts, but they actually purchased the shirts to help support the cause," he said. "I'm not surprised because their athletic director is a pretty amazing man."
He added that he was grateful for everyone who participated and helped put the project together.
"They think so much of MaryAnne that they went through all the trouble to do this," he said. "I think that's pretty cool. It shows what an impact she has."
Story and photo courtesy of the Kokomo Tribune.