Trine alumna addresses conference at Mayo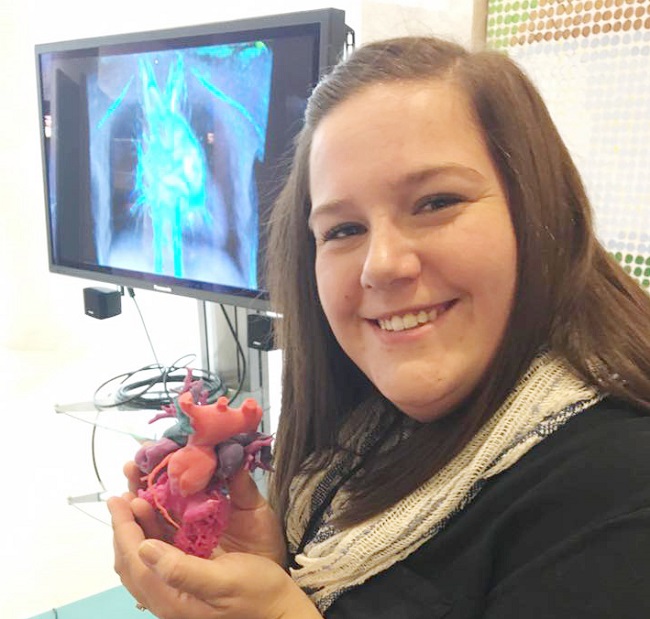 ROCHESTER, Minn. — Meagan Broucek, 2013 BSPSY, spoke to more than 200 people at the fourth annual Feel the Beat Conference held Oct. 8 at Mayo Clinic.
The conference focused on collaboration and research into Hypoplastic Left Heart Syndrome (HLHS), a birth defect where the left side of the heart does not form correctly during pregnancy. Broucek was born with HLHS and, at age 26, is one of the oldest living survivors with the condition.
"Basically it means I am living with half a heart," she said.
Broucek said Mayo Clinic staff found her Facebook page, where she talks about her life with HLHS, and asked her to speak at the conference. She addressed families of children with HLHS as well as scientists and research assistants from around the United States.
"I spoke about my story, and how we can collaborate together to try and cure this heart condition," she said.
Broucek said she had three open heart surgeries before age 3.
"I had a 50 percent chance of living with each surgery," she said.
She said HLHS leaves her unable to run long distances. She gets tired easily, can get chest pain and has to go to the hospital more than average, but has been able to thrive in spite of her condition.
"My parents were told I would never live a normal life, or be able to do the things I wanted, but I proved them all wrong," she said. "I played sports, I went to college at Trine University and I am now working on my master's."
She said she has attended many conferences related to HLHS and spoken at several of them. She also attends meetings and conferences for Mended Hearts, a peer support group for heart patients, and speaks at children's hospitals.
"I get to share my story and give hope to families who have a child with Hypoplastic Left heart Syndrome," she said.
She is working on a master's degree in child and adolescent development at Capella University and hopes to become a child life specialist, working with children who are hospitalized.
To learn more about Broucek and her journey with HLHS, visit her Facebook page at facebook.com/HLHSMeaganBroucek