CARE program gets first-year DPT students out with patients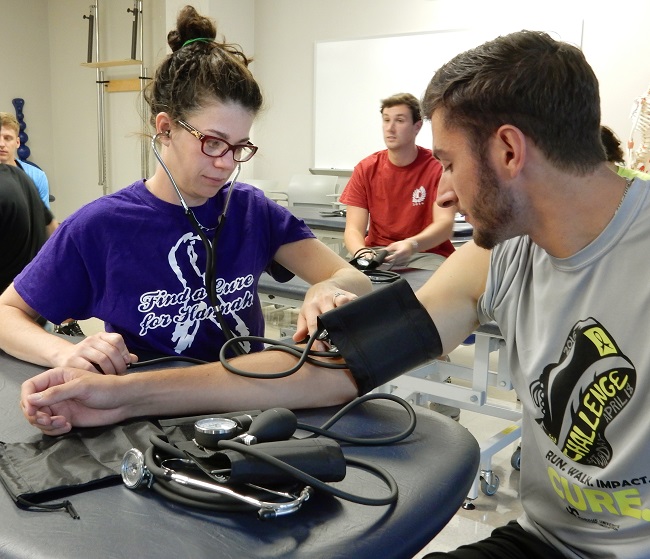 FORT WAYNE — Early in the first day of his second week in Trine University's Doctor of Physical Therapy (DPT) program, Ben England, along with his clinical instructor and a second-year student partner, walked in on a patient at Lutheran Hospital who was flat on the ground.
"They had a fall, so we had to assist in getting them back into their bed and doing all the proper treatment and just making sure they were okay," England said. "We were just kind of thrown into that environment."
England was one of eight students who began their rotation Tuesday, Aug. 30, in Trine's Clinical Application and Reflection Experience (CARE) course. The CARE experience gets first-year DPT students out into the field and interacting with patients shortly after entering the program.
In CARE, first-year Trine students are paired with second-year students and a clinical instructor in a semester-long rotation at one of eight clinical sites. Academic Coordinator of Clinical Education Steve Sullivan, DPT, who also serves as an assistant professor in Trine's DPT program, said research shows that having contact with patients earlier in the program benefits physical therapy students.
"The sooner students interact with patients, the sooner the fear of that initial patient-clinician interaction goes away," he said. "Even though they may not have as much clinical background to be able to do any actual treatment, the process of creating that initial rapport with patients and that human connection is often the missing piece between students doing very, very well and very poorly in their full-time clinicals."
Another benefit, Sullivan said, is that DPT faculty at Trine are able to relate what students are learning in the classroom to what they experience at their clinical rotation.
"Our CARE instructors are provided with our syllabi, and every two weeks I email the CARE instructors and say, 'This is everything the students are learning in every class in the curriculum,' " Sullivan said. "So the CARE instructors are able to say, 'You just learned about this particular structure or this particular maneuver. Let's have you demonstrate that on this patient.' "
Second-year students serve as mentors to the new students during the experience.
"I was a little nervous about the experience but I think having the second-year student — someone who's already been through that sort of similar situation — is very helpful," said first-year student Robert Harrison, who began his CARE experience at the Parkview Randallia outpatient clinic Tuesday.
Sullivan said the experience also serves as a refresher to second-year students for skills learned during the first year.
"That second-year student is challenged to really know their information so they don't just learn it for a semester and then forget it at the end," he said. "They have to retain that knowledge and those skills."
Like Harrison, other first-year students who began their CARE rotation Tuesday confessed to being nervous at first, but said they felt more comfortable as the experience continued.
"At first I was honestly terrified," said Brooke Stano, who was at Dupont Hospital. "I didn't know what to expect and I didn't know what was going to be expected of me. But my clinical instructor eased us into everything, explained the procedures and showed us where everything was. My CARE partner and I actually ended up taking part in the therapy, making sure people didn't fall or making sure they felt secure doing what they were doing. We also helped modify their program and even watched documentation. It was very thorough and very helpful, especially for the first day."
"I was really nervous at the beginning, but then just getting more into it really opened my eyes to what being a physical therapist will entail," said Sarah Wilder, who did her rotation in the outpatient clinic at Parkview Regional Medical Center.
Over the course of their program, Trine's DPT students will complete five CARE rotations, switching partners and clinical instructors each semester. The program's sites include specialties in cardiopulmonary, lymphedema and intensive care.
"We're trying to get students exposed to patient care across the continuum, at least in adults," said Sullivan, "although we do have one care instructor who focuses more on adolescent sports medicine, so we have students exposed to that population as well."
Getting students out in the field so early in the program is fairly unique to Trine, Sullivan said. Sullivan, Director of Clinical Education Kimberly Beran-Shepler, DPT, and adjunct faculty member and CARE instructor Christopher Rakoczy, DPT, will present about Trine's CARE program at the Education Leadership Conference of the American Physical Therapy Association in October.
The university already is seeing positive results from the program, Sullivan said.
"Our first cohort of 32 students walked into their first full-time clinical and we received a lot of accolades about how confident, assertive and proficient our students were for their first clinical," he said. "Many of the clinical instructors had never seen anything like that before. One clinical instructor said that our student in their first full-time clinical was ahead of a student in their final clinical from another school."
Max Baumgartner, DPT, director of Trine's Doctor of Physical Therapy program and dean of the Rinker-Ross School of Health Sciences, said area health organizations that have partnered with the university have been key to the program's success.
"Trine University is very grateful for the support our School of Health Sciences has received from our community partners. The CARE experiences have made a great contribution to the early success of our Doctor of Physical Therapy students," Baumgartner said. "This is a great example of health care providers and educators coming together to create a brighter future."